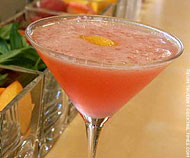 Drinking seasonally is fast becoming as commonplace as eating seasonally making full use of ingredients that are available locally in abundance. Now, just as restaurants change their menus to reflect the different seasons, so too do the best bars who feature a range of winter drinks from hot toddies to spicy martinis. This year there's a focus on sugar and spice and all things nice, the flavours we traditionally associate with Christmas. It's not just about fashion there's sound common sense here too. The spicy warming flavours of autumnal fruits, oranges and lemons, clove and ginger also fight off the cold during these long, dark winter months. It's a trend that easily transfers to entertaining at home too. With a minimum of equipment and skills, anyone can make glamorous gin drinks to tempt jaded winter palates and seriously impress guests. Here are a few suggestions.
The Juniper and Clove Collins is one of this year's hottest drinks. It muddles fresh juniper berries and cloves with gin, lemon juice and sugar syrup and the seasonal limited edition Red Grape, Elderberry and Clove Shloer. Easy to make it's a very festive alternative to mulled wine with its spicy berry and clove flavours.
Autumnal fruits are still available in all the shops and the English Orchard with fresh plums, apple juice and sloe gin is the ideal way to make use of what has been a great harvest this year.
The Classic Martini is a perennial that can easily be given a seasonal twist. Paul Martin, Gintime's martini guru, suggests adding a smoky spiciness with Islay malt and cloves in the Winter Martini. You can also be really fashion forward by serving the cocktail du jour, James Bond's Vesper, a martini made with both Gordon's Gin and vodka first created by Ian Fleming. Although it's not strictly seasonal, the Clover Club, a classic Sour with grenadine syrup, lemon juice, egg white and gin, has the freshness and subtle sweetness we crave at this time of year. Another classic that's currently undergoing a major revival is the Negroni, a fantastic mix of gin, Campari and sweet vermouth first invented at the Negroni Hotel in Florence in 1926. Cocktail expert Audrey Saunders of New York's Pegu recommends Beefeater Gin in the Negroni. Whichever gin you use, its brilliant red colour will make it super Christmassy.
We've updated the Cocktails Section with recipes for all the cocktails mentioned above. But please do keep sending in your own suggestions – we're always on the look out for cool new gin drinks any time of the year.