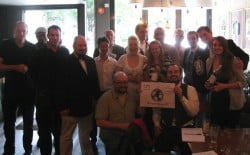 David Smith of Summer Fruit Cup reports on the first American Gin Summit for Gintime
To embrace the international aspect of the 4th annual World Gin Day, I decided to arrange an American gin tasting, accompanied by open discussion on the American/Contemporary style of gin. The tasting was attended by over twenty of the great and good of the gin world, including: Sam Carter and Sean Ward of Bombay Sapphire, Ian and Hilary of Sacred, Martin So of No: 209 and Adam Smithson and Sarah Mitchell of the Juniper Society.
The spirits were tasted blind and contained within the eight identical bottles were seven gins, plus a wild card: a botanical vodka that was made using many of the traditional botanicals of gin, but no juniper.
Overall, the panel responded warmly to the products, praising their variety and quality. The botanical vodka was singled out for its distinctive lack of juniper and the panel agreed that, although the products generally tasted of gin, many of their flavour profiles were very different to those that have been well-established by the traditional British distilleries.
The three most popular varieties were: No: 209, Junipero and Aviation. The first two are, by their own admission, a slight twist on London Dry Gin, whereas Aviation describes itself as belonging to a far more contemporary style of gin.
Our attention then turned to the concept of a modern, American style as a separate, descriptive category of gin. The panel agreed that such terminology could have useful meaning and that identifying different styles can help to "broaden the category's appeal" and may help to re-introduce people to the spirit. Evidence from speaking to American distillers supports the latter point.
On the subject of why these gins differed so much in style, three main reasons were proposed:
#1) Alcohol Base
In the UK, many gins are made under contract by distilleries such as Thames, Greenalls and Langley, using brought-in neutral grain spirit. As such, the botanicals are the main aspect of differentiation. In the USA, distilleries often also make their own base spirit using local crops, including, but not limited to the use of potatoes, green apples or even honey. As a result, American gins can differentiate on this basis alone as well as in their use of botanicals.
#2) Owner-operation
American craft distilleries are often owner-operated, with the distiller having been involved in the founding, development and maintenance of the brand. With such a large investment of time, money and creativity, it is unsurprising that producers want to make something "a bit different" to the big, established British brands.
#3) US Tonic Water
This was an unexpected, but apt, point. Tonic in the US (especially Schweppes) is far sweeter and stickier than British or European tonic, and, as such, drinks made with British gin often seem unbalanced. When formulating US gin flavour profiles, adjustments are subconsciously made to compensate for the additional sweetness; this was a major consideration when Bombay Sapphire East was created for the US market.
New Western Gin
In 2008, Ryan Magarian, co-creator of Aviation Gin, first outlined his thoughts on the subject of this different style and introduced the term "New Western Gin".
There have been two main criticisms of the terminology:
#1) "New Western Gin" has geographical connotations; many US distillers feel it refers only to gins from Pacific states. It is also felt to exclude non-US, self-labelled, contemporary gins, such as Nolet's Silver.
#2) Some gin brands (e.g. Miller's, Tanqueray No. Ten and Hendrick's) felt that the term was thrust upon them and argue against the label.
The panel discussed how the idea could progress and came to the following conclusions:
Appropriate terminology would be useful to describe this style, creating greater clarity for consumers.
Any categorization should be descriptive and stylistic, with no regulatory implications.
Terminology/labelling would need to be self-adopted by gin brands; speaking to distillers this seems plausible and, in fact, some already do.
Some descriptors were suggested:
#1 Classic
Dry gins, of the sort that have typically been made in England for generations, with flavours that are led by green, piney juniper and accented by the notes of other botanicals. Self-identifying Classic gins include: Beefeater, Sipsmith and Hayman's London Dry.
#2 Contemporary
Gins that still have juniper as the main flavour, but where the flavours of other botanicals are more in the foreground than in gins of the Classic style. Generally, a more experimental approach to flavours may be used, which may include the use of local or unusual botanicals and more unusual, in-house, base spirits.
Contemporary Gin also can be used simply as a collective term for New School Gin/American Gin/Californian Gin/New Western Gin/New World Gin/Modern Gin/21st Century Gin/New American/American Dry Self-identifying Contemporary gins include: Nolet's Silver & Reserve, DH Krahn, Dry Fly and FEW