The White Isle is the ultimate party place and it caters for everyone from the all you can drink without throwing up types that maraud San Antonio to international hipsters who rarely leave their multi million euro villas.
---
Hidden Bar, Cala Sant Vicent, Ibiza.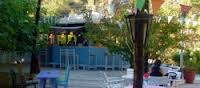 Tel: +34 (9) 7132 0253.
Open Mon – to Sat: 2pm – late
This year those in search of proper cocktails and properly laid back places in which to drink them have even more options. Hidden Bar in the very far north of the island at Cala Sant Vicent is a newish venture from Brighton stars Chris Edwardes and Amanda Blanch. Hidden actually opened last year but has had a major tart up this year to make it even more magical. Think Alice in Wonderland meets the Little House on the Prairie – a fabulous outside bar a step away from one of Ibiza's nicest beaches complete with crazy golf, giant chess, a children's play area, a little library and comfy chill out zones. The drinks are really very special, a mix of well made classics and constant new inventions from the legendary Chris. A new chef this summer is producing some of the most delicious bar food you will ever taste.
---
Bar 1805, 7 Calle Santa Lucia, Ibiza Town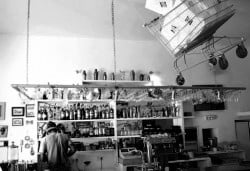 Bar 1805 in Ibiza Town is so named because it's only open for half the year – 180 days plus a half, geddit? It's the brainchild of Charles Vexenat a multi award winning French barkeep who is greatly revered in the industry.  Nestled in the shadow of Ibiza's Old City it's a homage to absinthe and the avant-garde artistic life.
Absinthe cocktails and French bistro food are the perfect combo here with super cool sounds and eclectic décor making for a unique atmosphere evoking the bohemian spirit of Ibiza before the package tours arrived. It's a must on a night out in the Old City.
---
Experimental Beach Club, Ibiza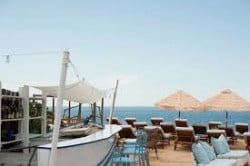 Playa d'es Codolar, Salinas, Ibiza
Open 10am-1am daily.
Next stop of the pilgrimage is right at the other end of the island, in fact about as far south as you can go. Experimental Beach Bar is the latest adventure from those lovely French boys who have already blessed us with Experimental Cocktail Clubs in London, Paris and New York.
We wouldn't recommend trying to find EBB in the dark. You drive right down to Salinas taking a road that winds narrowly past the salt dumps and then on until you arrive at a rocky headland, Cap de Falco, looking out across the blue blue sea. Et voila there it is.
Cocktails are the thing here with some really unusual offerings made with rare ingredients from all over the world. There's also a restaurant serving all manner of delicious locally caught fish. EBB is a dreamily friendly sort of place where you can quite happily spend hours without feeling any pressure whatsoever. Its nautically themed décor complete with an abandoned fishing boat as a bar is perfect laid back Mediterranean, free of the sometimes overdone pretentiousness of Ibiza style.