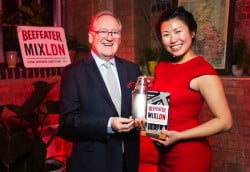 No we're not being sexist or patronising, the big news is that Beefeater, London's very own gin, has announced Evelyn Chick from Harbor Room bar in Toronto, Canada is the winner of the 2015 Beefeater MIXLDN Cocktail Competition. In fact half of the countries in the global finals last week were represented by women. Great news for those who consider that the cocktail world is male dominated.
Evelyn battled fierce competition from 31 national finalists in what was Beefeater MIXLDN's biggest global final to date. Her winning cocktail – the Endless English Summers – wowed judges, industry experts and the bustling MIXLDN crowd alike. The serve was inspired by the moment of peace and tranquillity that comes from stepping out of rush hour in the tube into a beautiful Royal Park after a fresh English rainfall. Judges included Beefeater Master Distiller Desmond Payne, award-winning industry experts such as Ryan Chetiyawardana, Anistatia Miller and Esther Media Cuesta and popular cocktail writers and critics BarChick and The Cocktail Lovers.
Evelyn's victory earns her the role of Beefeater's Apprentice Brand Ambassador, giving her the opportunity to support the brand's team of Global Ambassadors for one year. As part of this, following in-depth one-to-one training at Beefeater: The Home of Gin in London, Evelyn will represent Beefeater at exclusive events all around the world. As the reigning champion she will also travel to some of the world's most prestigious bartender events, such as the Moscow Bar Show and the Berlin Bar Convent.
Evelyn Chick, Beefeater MIXLDN 2015 Global Bartender Competition Champion, commented: "I am so excited and honoured to have picked up the top award at the Beefeater MIXLDN Global Bartender Competition; the level of talent this year was exceptional and my fellow contestants delivered some truly memorable drinks. I can't wait to get back home and reinvigorate my cocktail making with the new experiences and skills that I have learnt in London – it has been an eye-opening and unforgettable week. I'm looking forward to travelling around the world representing Beefeater, learning more about this iconic London Dry Gin and making delicious cocktails along the way!"
Women triumphed at this year's Global Final with Kelly Ballett from France winning the MIXLDN 2015 Bottled Cocktail Challenge, in which contestants were challenged to follow legendary London bar White Lyan's signature move of serving exquisite cocktails from pre-bottled batches. Evelyn Chick also received a second award at The Signature Cocktail Presentation Challenge with her Endless English Summers cocktail.
JC Iglesias, International Brand Director for Beefeater, comments: "Beefeater is committed to supporting the growth of the global cocktail scene, and our 2015 MIXLDN Cocktail Competition has uncovered a new wave of skill and dynamism within the global on-trade community. Every year we look forward to welcoming some of the most talented bartenders from around the world to join us here in London, Beefeater's home, to truly understand what makes this gin great. The quality of the cocktails delivered by our 31 national finalists this year has been truly remarkable and we would like to heartily congratulate our champion Evelyn Chick."
And here's the prize winning recipe:
Endless English Summers
1.75oz Beefeater Gin
0.5oz Fino Sherry (Tio Pepe)
0.5 oz 'Green Park Cordial'
6 drops salted Pernod
For the Green Park Cordial:
1 1/4 kg granulated white sugar
2 unwaxed lemons
1/2 pomelo (peel & fruit)
1 fennel bulb
1 teaspoon caraway seeds
1 teaspoon fennel seeds
1 barspoon fennel pollen
62g citric acid
750ml water
Method:
Pre chill stirring glass. Combine Beefeater London Dry gin, Fino sherry, 'Green Park Cordial' and salted Pernod in the glass. Add ice and stir to dilute (about 20 – 30 stirs). Strain into a chilled Nick & Nora glass. Garnish with a pomelo peel, cut and placed on the rim of the glass. Enjoy!