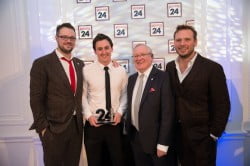 At the very splendid finale in London last week Jason Williams of "The Rook" bar in Sydney, Australia, was announced the overall winner of the third annual Beefeater 24 Global Bartender Competition. Williams wins an all-expenses trip to one of Beefeater's key global markets, where he will have the opportunity to experience the local bartending culture and gain first-hand knowledge of Beefeater's presence within the international market.
A former Australian Bartender of the Year, Williams beat 25 finalists with his 'Werewolves of London' cocktail. The competition, which is renowned for inspiring bartenders across the globe, attracted more entrants than ever before, with 26 countries taking part including Hong Kong, the USA, Japan and the UK – almost double the number of countries participating in 2012.
This year's judging panel included some of the most revered experts in the industry: New York-based bartender, Jim Meehan, of renowned cocktail den, Please Don't Tell (PDT); world-renowned mixologist, Tony Conigliaro; leading bars and drinks writer, Lucy Britner; award-winning food writer, Chris Hirst; Head Chef of London restaurant The Rib Room, Ian Rudge and Beefeater Master Distiller, Desmond Payne.
Having scrutinised the competing bartenders as they presented their signature Beefeater cocktails and put their creativity to the test in a surprise food pairing round, the judges selected eight overall finalists to go through to the final round, with countries including Ireland, France, Sweden, Finland and the Czech Republic represented. The last round saw the remaining eight contestants tasked with making their cocktail for the guests in attendance at the Grand Finale, with guests then voting for their favourite cocktail. Once the votes were in, the overall scores were calibrated and judges held a final deliberation before Desmond Payne announced Williams as the winner.
The standard of the competition was extremely high and almost any of the finalists could have won. At Gintime we were particularly impressed by the drinks made by Denmark's  Hardeep Rehal, 1105 and Jani-Pekka Hiltunen from Finland.
The winning cocktail, 'Werewolves of London', however was a triumph with its intriguing blend of Beefeater 24 gin, orange and peach liquor, lemon juice and frankincense bitters, finished off with a green tea mist.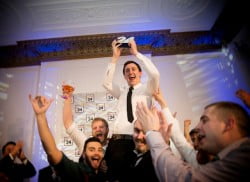 Speaking after the competition, Williams said: "I am a huge fan of London gin and for me, no other gin represents the true London gin style better than Beefeater, so winning this competition is a huge honour and a massive surprise for me. I've had a great time taking part in the competition – there was a great sense of camaraderie amongst all the competitors and the diversity of the various rounds was fantastic, allowing us to really show off our creativity and the different skills that bartenders need to have to be at the top of the game. Gin is definitely on the rise in Australia, so I'm looking forward to flying the flag for gin even more when I get home!"
JC Iglesias, Global Brand Director for Beefeater 24, comments: "We were really impressed by the variety and originality of the cocktails showcased by all the competitors in this year's final. We are proud to have captured the imagination of the global bartender community and on behalf of the whole Beefeater team, I'd like to congratulate Jason on taking the title. The success of this year's competition has further reinforced Beefeater 24's links with the on-trade and we hope to continue to inspire bartenders across the world to embrace their creativity and develop their skills in mixology."
Beefeater 24 Global Bartender Competition Finalists
Australia – Jason Williams, The Rook, Sydney
Austria – Florian Wisata, Hemingway Bar, Ried im Innkreis
Belgium – Barbara Simmi, Amigo Rocco Forte, Brussells
Canada – Robin Kaufman, Instructor at Toronto Institute of Bartending
Colombia – Joshua Gurrero Hoyos, Restaurante NoNo
Czech Republic – Miloš Danihelka, Anonymous Bar, Prague
Denmark – Hardeep Rehal, 1105
Estonia – Gerda Viks, Volga 7, Tartu
Finland – Jani-Pekka Hiltunen, Boulevard Social
France – Mido Ahmed Yahi, Le Café Moderne
Germany – Frederick Knüll, Spirits
Greece – Konstantinos Kapniaris, Habar; Rumors
Hong Kong – Hiu Kwan Cherry Lam, Quinary, Hong Kong
Ireland – Darren Geraghty, Indie Dhaba
Italy – Idris Conti, Luca e Andrea Café-Bar, Milan
Japan – Shoki Sato, Bar Beso
South Korea – Suk Ho SON, Coffee Bark Hannam
Norway – Truls Thomsen, Newsman
Poland – Jakub Kozlowski, Colombia
Portugal – Miguel Belo
Serbia – Marko Skerovic, Teressa Lounge and Bartenders710, Serbia
Slovakia – Marcoš Dzurus,Cuba Libre
Sweden – Andrea Patelli, Little Quarter
Switzerland – Nicholas Berger, Chat Noir Club, Geneva
UK – Scott Mitchell, Bon Vivant, Edinburgh
USA – Ian Cox, Wrecking Bar, Atlanta