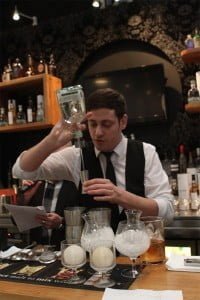 Caorunn Scottish Gin last night crowned Scott Ingram of Blythswood Square Hotel in Glasgow the winner of the new nationwide cocktail competition The Caledonian Bartenders Cup. Held at the LA Group's state of the art bar academy in Glasgow, Scott dazzled the judges by showcasing his exceptional mixology skills as he triumphed over stiff competition from 18 of the country's top bartenders.
Scott and his fellow entrants were tested to the limits in a contest, which included rounds of neat and blind tasting and a mixology innovation challenge, where they had to prove their creativity against the clock. Entrants' cocktails were judged on flavour, aroma, technical ability, presentation, discussion and name by a panel of industry experts.
The contest, which was launched by leading bar consultancy the LA Group in partnership with Caorunn Scottish Gin and anCnoc Highland Single Malt Whisky, was devised to challenge, celebrate and educate Scotland's leading bartenders.  £1000 prize money and an engraved crystal punch bowl trophy were up for grabs as competitors battled it out by creating two original cocktail concoctions to present to the judges – a 'Mid Summer Night' cocktail using handcrafted small batch Scottish gin Caorunn and an 'International Innovation' themed masterpiece using anCnoc.
Infused with five Celtic botanicals Caorunn's crisp dry taste provided the perfect base for a host of cutting edge cocktails and after a highly competitive round, Scott was declared the winner with his impressive Caorunn and anCnoc creations. Yan McPherson from the Voodoo Rooms in Edinburgh and Dean Evans from Glasgow's Blythswood Square Hotel were named runners up.
The competition was judged by some of the industry's foremost experts in taste, style and bartending namely Barry Chalmers, General Manager of Eau De Vie in Sydney, Australia's most influential speakeasy, Adrian Gomes from LPNY Consultancy, Caorunn Brand Ambassador Ervin Trykowski and Michael Lovedale from the LA Group Ltd.
Ibolya Bakos, Brand Manager, Caorunn Gin:
Caorunn were delighted to be involved in this exciting new competition which champions creativity within the bartending industry. Many first class bartenders create cocktails that capture the spirit of the moment and the Caledonian Bartenders Cup is the perfect platform to celebrate and highlight bartending as an art form.
Scott's Mid Summer Night Caorunn Cocktail
40ml Caorunn,
10ml Tempranillo,
20ml Calvados,
12.5 Cointreau,
12.5ml Grenadine,
3 drops Bitter Truth orange bitters,
2 drops Angostura bitters
Method – Shake and double strain
For further details on Caorunn visit: www.caorunngin.com