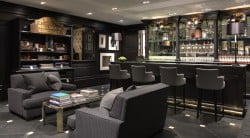 Here's a marriage made in heaven – Beefeater 24, one of the world's leading super-premium gin brands, has just announced a new global partnership with one of Britain's most iconic and revered men's style brands, Hackett London.
Founded in London and with a network of 130 stores and concessions around the world, Hackett is the ideal partner for London-based Beefeater 24, and will lead to a range of exciting marketing activities around the globe. The first of these  took place last week, at the launch of Hackett's new flagship store on London's popular Regent Street, where a stunning new Beefeater 24 bar was also unveiled.
Guests including model David Gandy and Downton Abbey's Allen Leech were served Beefeater 24 Gin & Tonics at the event, which took place on the first floor of Hackett's new store. Guests were invited to tailor their Gin & Tonics with one of three exclusive new tinctures (alcoholic extracts), created especially for Hackett by Beefeater and with flavours including citrus, berry and winter spice. The new tinctures have been created to complement Hackett's bespoke services and are available to customers in store from today.
JC Iglesias, Global Brand Director for Beefeater 24, commented: "Beefeater 24 is a traditional gin with a modern twist, capturing the essence of contemporary British life. This sentiment is echoed by Hackett and both brands are recognised around the world for their quality, and for their intrinsic links to London and the city's unique style. A partnership between the two is something that therefore seems very fitting, and we are confident that any resulting activity will resonate well with fans of both brands."
Jeremy Hackett, Chairman and Co-Founder of Hackett London, said: "Hackett London is very proud to partner with Beefeater 24, a perfect symbol of the wider Hackett lifestyle. The Beefeater 24 sponsored bar at Regent Street is an exciting new feature for the in-store world of Hackett."
The new Regent Street store is the world's largest store for Hackett London, standing three storeys high and with 830 square meters of shopping space. Hackett's shop window to the world, the new flagship will constantly evolve to reflect the current season and Hackett's latest visual campaigns.