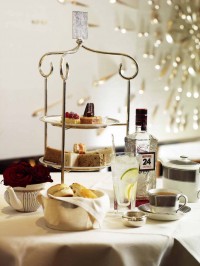 Here's a welcome break from the hurly burly of the West End. Between January and April Palm Court at the Langham Hotel at the top of Regent Street will be serving a  delightfully refined afternoon tea with a twist. Based on the botanicals in Beefeater 24 , the bespoke afternoon tea menu offers finger sandwiches made with smoked Scottish organic salmon with horseradish and watercress and Castle of Mey Beef with Savora mustard,  home baked scones with Devonshire clotted cream and Duchy Originals Strawberry Preserve, miniature French pastries and English classics such as mille feuille, Victoria sandwich, Bakewell tart and chocolate gateau. The tea itself is based on the Beefeater 24 recipe which uses a unique mix of Chinese green and rare Japanese Sencha teas . Natually there's an equally delicious Beefeater 24 G and T creating the ideal mix of two quintessentially British drinks.
Palm Court is famous as the birthplace of the afternoon tea , serving tea to the cream of London since 1865. It is the dazzling new centrepiece of recently refurbished  Langham Hotel and the perfect place to put your feet up, have a cuppa and relax. Priced at £39.00 per person, the Beefeater 24 G and Tea is available in Palm Court from 1 January 2010 until 30 April 2010. Advance reservations are recommended on: 020 7965 0195 or for more information visit: www.palm-court.co.uk
Keep checking in with us as we'll be giving two lucky Gintimers the chance to experience the Beefeater 24 G and Tea for themselves soon!