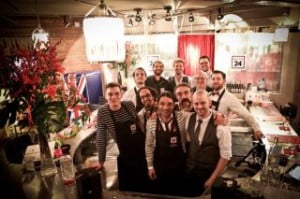 This week saw the final of the Beefeater 24 Bartender Competition 2011 at the Beefeater Distillery in Kennington this week. The eight finalists – chosen by International Brand Ambassador Tim Stones and local drink experts – came from Canada, Italy, Greece and the UK.
Along with the usual cocktail elements, finalists were judged on their origami skills, a blind tasting, and their ability to learn a new skill – in this case sushi-making. The use of tea was a key element in the cocktail rounds, as was the creation of a service ritual, due to the unique tea botanicals in Beefeater 24. The rituals created featured some weird and wonderful props, including dry ice and a popcorn machine.
The Judges were Beefeater Master Distiller Desmond Payne, Tea Expert Jane Pettigrew, and Bar Consultant Dre Masso. They judged the cocktails based on the use of Beefeater 24, tea and overall bartending skills.

The competition was extremely close, but in the end Jacob Sweetapple of Vancouver took the title. His prize is a trip to Japan to learn all about tea and tea culture.