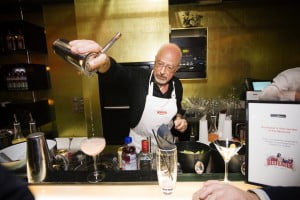 Beefeater took the 2009 Venuez Bar Show in Amsterdam by storm earlier this month  with a range of activities themed around its Forever London message, underscoring the fact that it is the only major international London Dry Gin to still have its distillery in London.  Demonstrations to the assembled audience of global bar influencers featured a veritable who's who of mixology over the two days of the show. Beefeater educated and entertained visitors with a feature by Henry Besant of Worldwide Cocktail Club, Peter Dorelli, BBC's Something for the Weekend's Andy Pearson and World's Best Bartender Nick Strangeway¹ on Forgotten London Cocktails.
Taking inspiration from the book 'London's Classic Gin Cocktails' – recently published by Beefeater and written by Jared Brown and Anistatia Miller – Henry and Peter recreated the development of gin cocktails in the Capital touching on the current trend for rediscovering forgotten classics and giving them a modern day makeover. Desmond Payne hosted a Gin versus Genever tasting, exploring the common roots of the two spirits. Rounding off the activities was a touch of star bartending, all in the name of charity, which featured Nick Strangeway, Peter Dorelli, Beefeater Brand Ambassador Tim Stones, Lab Bar founder Douglas Ankrah and Create Cocktail's Charlie Homberger stepping behind the bar to take part in London Calling, organised by Beefeater and The Fabulous Shaker Boys, and highlighting Beefeater's undisputed position as an essential cocktail ingredient.
The Amsterdam Bar Show is the first in a series of international bar shows where you'll find Beefeater and Plymouth at this year with Paris, London and New Orleans next on the itinerary.