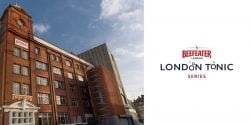 This Saturday, the 10 June 2017, Beefeater will throw open the doors of its iconic gin distillery to host the ultimate gin infused house party – a joint celebration of World Gin Day and the finale of the popular London Tonic Series – a series of monthly events showcasing London's coolest talent, from instagrammers to street poets, and hip hop dancers.
For one day only, Beefeater will invite back the biggest acts from the London Tonic Series to perform in its impressive on-site bars.
Whilst guests enjoy cocktails created especially for the day by Beefeater's brand home ambassador, Ryan Adair, guests will be invited to a hidden speakeasy in the Distillery, normally off limits to visitors. Here, they'll find:
· Street poet Joshua Idehen reciting his own verse in his unmistakeable signature style
· Ricky Gervais's favourite comedian Adam Bloom performing excerpts from his side-splitting show
There will also be music by singer-songwriter Midé, whose debut album was released to much critical acclaim, and British breakthrough act, Tara Flanagan plus a top-secret headline act from the @london #stageside line-up
Street magician and mind reader Ryan Tricks will wander the s set to wander the rooms entertaining guests with his mind-blowing street magic.
In true house party style, guests will be able to travel between rooms by booking onto one or both of the sessions, and enjoy delicious World Gin Day cocktails and food from street food provider The Patate, who will be dishing up their famous burgers to guests on the day.
Kasia Karpieszuk, Manager at Beefeater London, The Home of Gin, said: "After seven months of celebrating talent in the capital through the London Tonic Series, we're delighted to be ending the current series with World Gin Day.
"As Beefeater is the home of gin in London, it made sense for us to open our doors to Londoners and hold the ultimate World Gin Day House Party, celebrating both the series' talent, and of course, our iconic gin.
"We're looking forward to welcoming guests, both old and new, to the ultimate celebration of gin and London, and all proceeds will go to help the UK's future generation of artists via our partnership with the City and Guilds of London Art School."
Tickets for Beefeater World Gin Day House Party performances cost £5 each and this includes entry to one session (either music or spoken word) and two free drinks. There is also a chance to book onto both sessions and enjoy four delicious cocktails for £10.
The Beefeater World Gin Day House Party will take place over two sessions on Saturday 10 June 2017, from 1.30pm until 3.30pm and 3.30pm until 5.30pm. Bookings for this one-off experience are essential via tinyurl.com/beefeaterhouseparty
The London Tonic Series is a series of monthly events that were held at the Beefeater Gin Distillery from October 2016 to June 2017, showcasing the best of London's arts and culture scene. The Beefeater World Gin Day House Party celebrates the end of the current series, before it breaks for the summer and returns in September 2017 with a brand-new programme of events.
Guests will not be admitted without government-issued identification proving they are at least 18 years old.