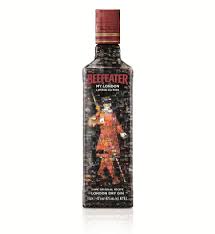 Beefeater Gin has released the iconic #MyLondon Limited Edition bottle – a spectacular design created using 1,000 images crowd-sourced from Londoners during a competition.
The #MyLondon competition, which ended in November 2012 with a giant laser-projection in London's Covent Garden Market, saw thousands of Londoners share what the Capital means to them through their favourite photographs, which were uploaded to a dedicated website www.beefeaterginmylondon.com. Of the images shared through the website, 1,000 were then selected by a panel of judges to be featured on the unique limited edition bottle.
The new design pays homage to the creativity of Londoners and will be available from April 2013 in 22 markets around the world, including Spain, UK, Taiwan and Australia. Combining instantly recognisable cityscapes with more contemporary figures, the packaging embodies the UK capital's creative culture, whilst also displaying the iconic Beefeater cues including the Yeoman silhouette.
Paco Recuero, Global Brand Director for Beefeater Gin, said: "As the only international gin brand to have its distillery in London, Beefeater is uniquely placed to communicate with Londoners and represent the city's diversity and creativity. The 'This is My London' campaign and our new #MyLondon Limited Edition bottle show how brand interaction with consumers can be engaging and inspiring."
The launch of the bottle coincides with the announcement that Beefeater will become the first London gin distillery to open a visitor centre. The centre, named 'Beefeater London – The Home of Gin', will offer guests the opportunity to learn about the history of gin through a series of interactive showcases and to see, touch and smell the botanicals used within the production process. The experience will culminate in the opportunity to watch the live gin production process in the distillery's cathedral-like still house. The visitor centre is due to open later in 2013.