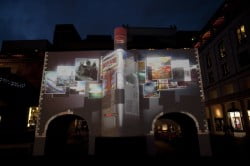 Unveiled exclusively in a spectacular visual stunt in Covent Garden, Beefeater Gin is celebrating Londoners' outstanding creativity and passion in helping to create its new limited edition bottle. A giant, animated, laser-projection revealed the first impression of the new bottle – showcasing its creation and featuring the best photos from Beefeater's #MyLondon competition.
With London being widely regarded as the world's creative hotspot – and as home to Beefeater Gin since 1860 – the #MyLondon competition has called upon Londoners to send in photos of what the city means to them. The new limited edition bottle, which will be on sale globally from spring 2013, will feature 1000 images and showcase to the world our capital's creativity and exhilarating spirit.
Paco Recuero, Global Brand Director for Beefeater Gin, comments: "As London's authentic gin, we called upon the world's capital of creativity in the making of our new limited edition bottle. We've been overwhelmed and want to thank Londoners for their inspirational creativity and passion, which will be seen and appreciated all around the world." Visit www.beefeaterginmylondon.com to view the inspirational entries.