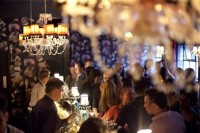 Running from 28 July until the 31st December at Bistrotheque in East London is a specially commissioned Gin Den inspired by designers of the moment House of Hackney's ʻHackney Empire' collection, which features a riot of colourful characters in a world where bush babies play the accordion and frogs wear bowler hats. Inspired by legendary tales of revelry in Hogarthian times The House of Hackney Gin Den at Bistrotheque is a brilliant addition to the series of unique and imaginative drinking experiences that Bombay Sapphire has created for Londoners and visitors to London. The collaboration is a natural fit. Frieda Gormley and Javvy M. Royle, the creative and life partners behind House of Hackney, and Bistrotheque boys David Waddington and Pablo Flack are long-time friends and a key part of the East London creative scene whilst Bombay Sapphire and House of Hackney are collaborating together on a number of upcoming creative projects. All partners in the ʻGin Den' are known for their innovation, breaking away from the norms of their industries and reinventing stereotypical interior design, gin production and dining experiences.
In keeping with many of Flack and Waddington's pioneering dining projects, the Gin Den will be open for a limited time. Last orders will be taken at the end of the year, giving visitors plenty of time to take in the evocative décor whilst sipping a fruity and herbaceous Hackney Empire Bombay Sapphire cocktail, specially created by David Waddington and Bombay Sapphire's brand ambassador Sam Carter.
Hackney Empire Bombay Sapphire Cocktail Recipe
37.5ml Bombay Sapphire gin
12.5ml Martini Rosso
30ml Cloudy apple juice
20ml Pineapple juice
Shake the above ingredients thoroughly to chill and aid dilution then fine strain into a chilled martini glass. The shaking creates a foam so no need for a garnish.
The House of Hackney Gin Den is at Bistrotheque 23 Wadeson Street, London E2 9DR – see: