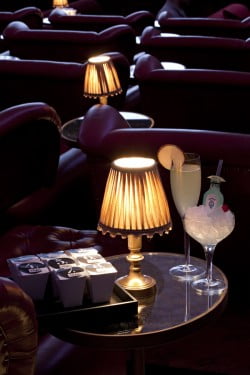 This Christmas, Edible Cinema will return to the newly refurbished Electric Cinema in Notting Hill for two festive screenings of When Harry Met Sally on Sunday 16th December. This classic American romantic comedy starring Billy Crystal and Meg Ryan is one of the all time feel-good films and its festive scenes are sure to encourage the Christmas spirit amongst the audience.
Edible Cinema is a collaboration between Soho House, renowned experience organiser Polly Betton, experimental food designer Andrew Stellitano and Bombay Sapphire mixologist Sam Carter.
On arrival, guests will be served a Bombay Big Apple cocktail. This delightful festive tipple is BIG on seasonal apple flavours inspired by the New York 'Big Apple' film location of 'When Harry Met Sally' – see recipe below. Each guest is then supplied with a tray of numbered mystery boxes containing abite-sized tasting menu tailored to specific moments in the film. A number corresponding to a parcel is displayed just before the crucial moment, signalling guests to get stuck in and enjoy the treats. When Harry Met Sally offers some great moments to be translated into food. Hair spray, lip gloss and Sally's constant demands for items 'on the side' will all be highlighted through the packages.
.
Edible Cinema will take place on Sunday 16th December at 2.45pm and 5.45pm at The Electric Cinema, 191 Portobello Road, London W11 2ED
Tickets are priced as follows: Front row sofa (for 2) – £52 Armchairs – £28 Back row sofa – (for 2) £60
Tickets go on sale on 30th November.To book, please visit www.electriccinema.co.uk
Bombay 'Big Apple'
Ingredients:
35ml Bombay Sapphire
15ml apple schnapps
20ml cloudy apple juice
50ml dry English Cider
dash Barkeep apple bitters
Creator: Sam Carter, Bombay Sapphire Brand Ambassador
Glassware: Champagne flute
Ice: Shaken with good quality cubed ice
Garnish: Cinnamon dust
Method: Shake the Bombay Sapphire, apple schnapps, cloudy apple juice and apple bitters with good quality cubed ice. Fine strain into a chilled Champagne flute and top with the Cider. Sprinkle the cinnamon powder over the top of the drink and serve