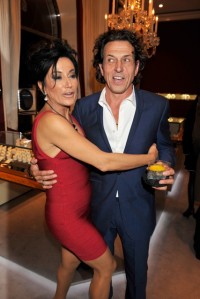 A fun night for all at Tuesday's launch of Tomorrow's Talent, a new month long event at  jewellers Garrard in Mayfair, showcasing the work of up and coming British-based jewellery designer Tomasz Donocik, who presented his new collection; The Garden of Good and Evil. Guests including Ronnie Wood, Calum Best, Nicola Sargent, Kelly Hoppen, Nancy Dell'Olio, Yasmin Mills, Hilary Alexander and Lloyd Grossman who enjoyed Bombay Sapphire cocktails at the event hosted by Eric Deardorff, CEO Garrard and Stephen Webster, Creative Director. The Bombay Sapphire team came up with a choice of two delicious themed cocktails – here are the recipes:
Bombay Sapphire 'Evil' Cocktail
50ml Bombay Sapphire
12.5ml Orgeat (almond syrup)
10ml freshly squeezed lemon juice
100ml cranberry juice
Pour all ingredients into a tall glass. Stir well. Fill the glass with cubed ice, stir and garnish with a large lemon wedge.
Bombay Sapphire 'Good' Cocktail
50ml Bombay Sapphire
20ml cloudy apple juice
12.5ml fresh lime juice
10ml vanilla syrup
Shake all ingredients vigorously with cubed ice then fine strain over crushed ice in a tumbler. A slight foam will appear. Finish with a spritz of lemon peel on top.