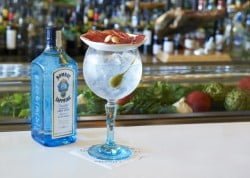 This April, Bombay Sapphire is joining forces with authentic Spanish restaurant group Brindisa Tapas Kitchens to launch a specially created ʻUltimate G&T Tapas Pairing' across its four London restaurants.
The classic gintonica is much loved by Spanish drinkers and the pairing is based on Bombay Sapphire's Ultimate G&T served in a Spanish style balloon glass. Taking inspiration from the original idea of tapas where you were served a drink with a small plate of food sat on top of it, this new tapas pairing features the Ultimate G&T with a special caperberry garnish and a small plate of expertly selected ibérico bellota jamón and almonds.
The ibérico bellota jamón chosen for the Ultimate G&T Tapas pairing by Brindisa's Master Carver, Mario Hiraldo, comes from Senorio de Montanera, Extremadura. Deep red in colour the jamón is profoundly aromatic and intensely perfumed, with hints of chocolate, nuts and a scent of woodiness. The creamy texture and nutty flavour of the ibérico bellota jamón (a result of acorn- fed rearing) cuts beautifully through the citrus flavours of Bombay Sapphire's sophisticated taste profile. Ground Spanish almonds and Angelica root, two of Bombay Sapphire's exotically sourced botanical ingredients, which bring texture and an earthy rootiness to Bombay Sapphire's unique taste, compliment the jamón and almond dishes further.
Offering exceptional Spanish gastronomy with freshly prepared tapas and meat, cheese and fish plates at its four restaurants, Brindisa is also renowned for its popular HamSchool master classes, with guests sampling top Spanish hams and learning how to carve a whole jamón leg under the guidance of Brindisa's master carvers.
The Bombay Sapphire ʻUltimate G&T Tapas Pairing' will be available from 1 April until 31 May at Brindisa Tapas Kitchens: Tapas Brindisa London Bridge, Tapa Brindisa Soho, Casa Brindisa South Kensington and newly opened Tramontana Brindisa in Shoreditch, priced £10 per person.