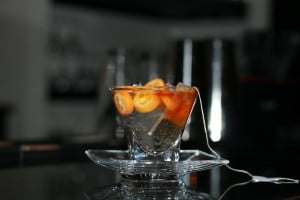 Britain's gin drinkers can pay tribute to the Queen's Jubilee this summer by sipping on a new Caorunn cocktail – Jubilee & Tea. Created by innovative cocktail catering company, 10 Dollar Shake, to mark the already much anticipated Royal celebration of 2012, the stately cocktail will be launched at this weekend's Scottish Wedding Show in Glasgow.
Designed to commemorate the Queen's sixty year reign, Jubilee & Tea incorporates ingredients and flavours from around the Commonwealth – Caorunn Scottish gin, English tonic water (with Indian botanicals), Kenyan tea and kumquats from Hong Kong. Thousands of Scotland's brides-to-be heading to the SECC's Scottish Wedding Show this weekend will be the first to taste this gorgeous concoction as a series of Jubilee & Tea serving demonstrations and sampling will run throughout the two day show.
Since its launch in Aug 2009, Caorunn has been a hit with gin lovers across the UK. Its clean, crisp, aromatic taste provides the perfect base for a sophisticated celebratory cocktail. 10 Dollar Shake is an Aberdeen based cocktail catering company. Their services range from installing fully equipped pop-up bars to holding mixology workshops which showcase both contemporary and classic cocktails, the art of balancing flavours and iconic drinks brands.