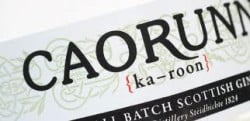 Super premium Caorunn Scottish Gin has collaborated with luxury men's tailor Spencer Hart to serve up some stylish drinks during a week of Los Angeles- based Oscars activity. The visit follows Spencer Hart's hugely successful Golden Globes trip in January, where they dressed leading British actors including Orlando Bloom, Dominic West, Damian Lewis, Benedict Cumberbatch and Alexander Skarsgard for the prestigious awards.
To kick off the partnership, Caorunn sponsored Spencer Hart's exclusive pre-Oscars party which took place last night at The Standard Hotel's @Smoke&Mirrors, one of Hollywood's hippest hangouts. During the event the cream of British film mingled with the LA acting fraternity and enjoyed Caorunn's signature serve – a Caorunn G&T with a slice of red apple.
Caorunn will also provide some of the film world's leading men with a taste of the Scottish Highlands during the run-up to Sunday's inaugural awards at the iconic Chateau Marmont. Nick Hart, Spencer Hart's founder, and his team will be fitting British and Hollywood A-listers with bespoke suits at the legendary hotel, offering them a Caorunn tipple during the process.
This exciting LA activity follows Caorunn's successful US launch in June 2011. The Spencer Hart collaboration is the first of a series of partnership campaigns coming from the super premium Scottish gin brand this year, all celebrating a shared passion for fine craftsmanship, timeless style and innovative design.
Caorunn Brand Manager Ibolya Bakos says: 'Caorunn is delighted to support Spencer Hart's exciting Oscars activity as part of a new brand partnership campaign. Their commitment to producing high quality, beautifully crafted modern classics aligns perfectly with Caorunn's values and we look forward to working with them on further events throughout the year.