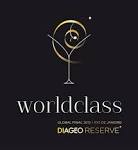 Here at Gintime we usually just confine ourselves to gin things but this is too good not to share. Diageo World Class, the industry's biggest and most prestigious bartending competition, is calling upon the very best of British bartending talent as it returns for its seventh year with an enhanced format and an exclusive new website.
This year World Class judges and ambassadors will visit more than 400 of the best bars in the UK to personally invite bartenders to take part in the competition. Entry will be their first step towards achieving the world's most respected bartending accolade. Contestants then need to visit the new website www.theworldclassclub.com for full competition details and to enter their best cocktail recipe between 21st – 30th November 2014. The website, created for participants and supporters, will be kept up-to-date with breaking news, competition results and creative cocktail inspiration, along with information about the latest trends and top bar openings around the world.
Head of Diageo Reserve GB Nick Temperley said: "We are truly excited to be calling upon the UK's bartending talent after the incredible buzz of hosting the global final here in the UK earlier this year. We witness fantastic bartending talent here in the UK every day – it's truly world-leading – so we're confident that this year we'll have what it takes for a UK entrant to take the top spot as global World Class Bartender of the Year 2015. Don't miss your chance to enter!"
This year, the title of UK World Class Bartender will be more exciting than ever: as well as taking the esteemed title, the winner will travel the world educating and inspiring new talent. Further boosting their career, they will become a World Class judge and mentor, feature on the World Class TV show, and have the opportunity to create their own cocktail collection book to be released globally.
The bar they work in will not only benefit from enhanced industry status, but will also be awarded a one-off £10,000 marketing fund to create their own, exclusive World Class ritual serve. Jetting off to Cape Town alongside the best bartending talent from across the globe, the winner will have a chance to claim the ultimate recognition as global World Class Bartender of the Year 2015.