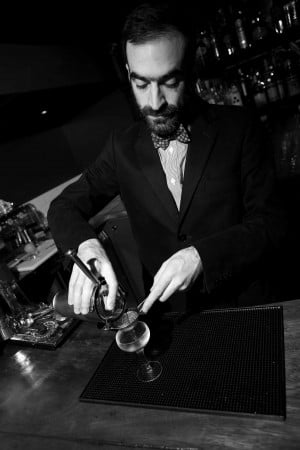 Here's a top treat for Valentine's Day especially for those who want to avoid the usual clichés – Beefeater 24 has collaborated with renowned mixologist Tony Conigliaro to create the Beefeater 24 Molecular Masterclass.
An exclusive free molecular cocktail session, The Beefeater 24 Molecular Masterclass offers guests a unique unusual Valentine's Day experience with the chance to see behind the scenes at the lab of one of the UK's greatest mixologists. Tony Conigliaro will be taking guests on an insider's tour of the molecular mixology world and showing them the tricks to making unique molecular creations.
Widely renowned by food and drink lovers as the Heston of the drinks world, Tony Conigliaro is the mixology genius behind The Bar with No Name (69 Colebrooke Row) and the innovative cocktail menu at The Zetter Townhouse. Famed for his unique molecular concoctions, including glowing martinis, grass-scented cocktails, a Beefeater 24 Flintlock which is served with a gunpowder explosion and rose-flavoured lipstick stained glasses, Tony has collaborated with Beefeater 24 to create an original Valentine's experience for fifteen cocktail lovers.
With gin enjoying a period as the spirit of choice for cocktail connoisseurs, Tony will explore how Beefeater 24's unique citrus and tea notes can be used to create inventive new Valentine's Day recipes as well as twists on classic cocktails. Following the session, guests will be able to sample Tony's creations in the intimate surroundings of the award-winning 69 Colebrooke Row.
The Beefeater 24 Molecular Masterclass is on Saturday 18th February from 3-5pm. The session will start at The Drinks Factory, 35 Britannia Row, N1 8QH before moving to 69 Colebrooke Row, N1 8AA for cocktail tasting. The Masterclass is free to attend, however there are limited spaces. Guests should register in advance by emailing david@bacchus-pr.com