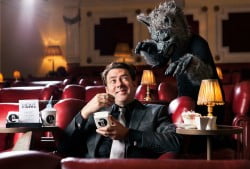 Don't miss the next Edible Cinema this weekend at the Electric Cinema in Notting Hill. Curated by TV and radio presenter Jonathan Ross and film producer and screenwriter Jane Goldman it's a screening of cult film, 'American Werewolf in London'. The Edible Cinema concept truly enhances the film using taste, aroma and texture to heighten the viewers' experience of the film's most famous scenes accompanied by a series of bespoke, imaginatively created Bombay Sapphire cocktails.
Each guest receives a selection of numbered boxes at the start of the film, which they will be instructed to open and enjoy at certain points throughout. The contents of the boxes, and the carefully matched Bombay Sapphire cocktails that accompany them, will correspond to the action on screen, offering a multi-sensory cinema experience like no other.
On arrival, guests will be treated to an imaginatively inspired Bombay Sapphire cocktail served in a tea cup and saucer with an ale and cigarette smoke aroma delivered with dry ice taking inspiration from the film's opening scene in the pub.
The Electric Cinema was completely refurbished in December 2012 and now boasts a stylish, comfortable interior with oxblood leather armchairs and even flat 'beds' offering the ultimate cinema experience.
Edible Cinema takes place on Saturday 26 October at 6.30pm and Sunday 27 October at 8.45pm.
Electric Cinema, 191 Portobello Road, London W11 2ED
Tickets are priced as follows:
Armchair seats £35pp
Front row sofa £70 (£35pp)
Back row sofa £70 (£35pp)
Tickets are available from www.electriccinema.co.uk