We know where we'll be now that the sun has finally come out. Gilbert's Gin Garden at the magnificent St Pancras Renaissance Hotel is the brainchild of the Gilbert Scott Bar and our favourite Hendrick's Gin.  It's just opened with a starry do hosted by celebrity chef Marcus Wareing.
Celebrating British eccentricity, the Garden features goldfish bowls hung in chandeliers, bathtub sofas and a phone box bar station. And, my word, the cocktails! Visitors to Gilbert's Gin Garden can enjoy a variety of libations, including Hendrick's "Tea Time" tipples, that have been concocted especially to be enjoyed with The Gilbert Scott's traditional Afternoon Tea. The Delicate Rose Cocktail combines Hendrick's gin with rose petal tea, pink grapefruit, elderflower and cucumber for a particularly refreshing tipple, whilst Lady's Grey mixes Hendrick's Gin with bergamot, Lady Grey Tea and bitter lemon fizz for a delicious citrus flavour.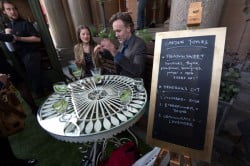 There's also a full Brunch Menu with a range of tasty dishes, from the hearty Dorset crab 'Benedict' and The George (eggs, bacon, black pudding, homemade beans, bubble and squeak, toast) to lighter options such as buttermilk crumpets with golden syrup butter –available from 11am weekdays, 10am on weekends.
In addition, Gilbert's Guests can treat themselves to the Bar Bites menu whilst sipping on bottled cocktails (such as Summer Thyme or the bottled Negroni) available from 12pm daily. For a sweet treat, try a Cocktail Float such as the Midland Iced Tea Float (Hendrick's Gin, dark rum, triple sec cola syrup, charged with fizz and floated over salt caramel ice cream.
Check out more menus and opening times here –