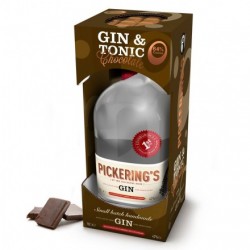 Oh yes! Pickering's Gin have come up with the perfect combination – 70cl of Pickering's Gin and 90g of infused dark chocolate (64% cocoa). Together. In the same box.
So that'll be the Pickering's marvellously mixed gin at 42% ABV, reviving a secret Indian recipe. Plus chocolate crafted at the award winning Summerhall chocolatier, infused with Pickering's Gin botanicals to give a wonderfully decadent, flavoursome dark chocolate.
Orders are being taken now online at www.pickeringsgin.com in the run up to Christmas. One present at least done!