Gin has come a long way since the days when the horrors of the eighteenth century Gin Madness were depicted in Hogarth's famous "Gin Lane" with its vivid images of the effects of addiction on London's population. And no wonder that gin was blamed. Because although at the time gin was drunk by both sexes, women took to gin like ducks to water and the authorities were very concerned about the ability of  gin addled women to give birth to and raise healthy children hence the nickname Mother's Ruin for gin. They were not wrong – in  the 1720s almost 75% of children born in London never reached five years old. In 1751 nine thousand children died from alcohol poisoning,
A new exhibition at London's Foundling Hospital featuring Tracey Emin, Matt Collishaw and Paula Rego picks up on contemporary themes of maternal neglect and childhood deprivation so graphically illustrated by Hogarth. In a brilliant demonstration of how much the image of gin has changed Hendricks Brand Ambassador Louis Lewis-Smith has created an exquisite Hendrick's Gin punch to mark the opening of the new exhibition.
Here's more about the  Foundling Museum which sits on the site of the old hospital that was founded with Hogarth's money. It was Britain's first home for abandoned children and also houses Hogarth's very own punch bowl.
The new exhibition is a must see but in the meantime, in the spirit of Hogarth, here's the Hendricks Gin hommage: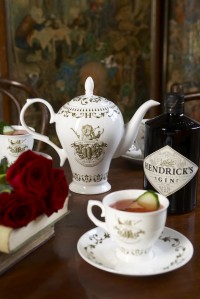 Method: In a finely decorated punch bowl or tea pot, add Hendrick's Gin, half again of crème de framboise and half again of fresh lemon juice.  Drop in several sprigs of lavender and numerous slices of cucumber.  Top off with sparkling wine before serving into bone china tea cups.  Wonderfully peculiar and not a cat's paw in sight.
40ml Hendrick's gin
20ml creme de framboise
15ml fresh lemon juice
1 piece of lavender
1 slice of cucumber
dash of sparkling wine
Gorgeous!