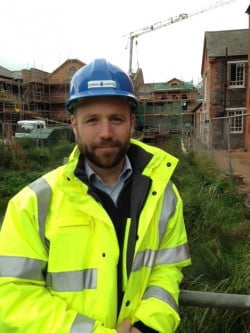 Will Brix has one of the coolest jobs in the world managing the day to day development of the new Bombay Sapphire home at Laverstoke Mill in Hampshire. Geraldine Coates got the Lowdown.
How did you get into the drinks industry and is it a route you would recommend?
I started washing dishes in a pub in Hampshire when I was 15, and behind the bar at 18. I went to university in London and started working for a bar group called Babushka in the late 90s, back when just knowing the basic 10 cocktails was enough, CLASS magazine had just started and places like Alphabet were the 'in' bars. I continued in the independent bar scene here in the UK, France and the US, and started with Bacardi UK eight years ago in field sales looking after central London for a couple of years, before landing at Bombay Sapphire 6 years ago doing mainly trade advocacy.
What's your job now?
I'm the Estate Manager for the Bombay Sapphire Spirits Company, which involves working alongside our master distiller Nik Fordham, and being responsible for the amazing home of Bombay Sapphire at Laverstoke Mill in Hampshire.
What do you like best about it?
Well, starting as a bartender and ending up looking after a multi million pound project, building a distillery from the ground up has been a fascinating journey! There are so many interesting facets to this amazing place, it makes everyday a school day which I love. It's been a long road, but it's great to let your imagination loose in 1000 years of history, and that's exactly what we have done here. When you stick an old bartender in very serious meetings about sustainability asking outlandish questions, like can you use excess heat from the cooling process of distillation to heat a huge glass house – Laverstoke Mill is what you get! My role is so varied it keeps things very exciting, and the input I have had into planning and building the distillery has been very satisfying. The overall highlight has to be that in such a fast passed 'here today – gone tomorrow world', doing work which will outlive me by a long stretch. It is rare in this business to have the privilege of working on such an incredible project.
Tell us about your favourite UK bars and why?
Trailer Happiness – no doubt. Sly's toast on the 10 year anniversary sums it up well – 'here's to so many great nights I've forgotten, with so many great friends I will never forget'. Being central to our little world for so many years it has become an institution. It's pretty simple – my favourite bars are all about the people who work in them. It's one of the few bars you can walk in wearing a suit or shorts & a T-shirt and there is no pretentiousness or judgement – just good drinks with old friends. Portobello is a great place, as you can visit Montgomery , Trailer, Jake's place, and the Lonsdale all so easily. I'm also very partial to Raoul's in Oxford. Although these days you will usually find me in my local – the Red House in Whitchurch, having a pint!
And your three best international bars?
The Violet Hour in my home town Chicago, sitting outside in the Piazza della Republica at the Savoy in Florence, and the Sheraton hotel on Ipanema beach in Rio has a special place for me, as that's where I learnt to make a Caipirinha.
What's your favourite gin cocktail?
Negroni.
Why do you think gin is on such a roll?
Because I've been working very hard over the last 6 years! haha…
London is the bartending capital of the world, gin is our national spirit, and it's our patriotic duty to drink gin! Vodka changed everything, no doubt, but gin is so much more interesting and is so tied to the birth of the cocktail, I think the more the world of cocktails rises, the more gin will be at the front of that. Gin is the interesting person you sit next to and start a huge conversation with – it has depth, flavour, history, versatility and above all character.
If you were going to make me a cocktail what would it be?
Aviation – 60ml Bombay Sapphire, 15ml fresh Lemon, 15ml Luxardo Maraschino, 2.5ml Creme de Violette – great taste – great history.
Who would play you in a film?
Everyone would say Bruce Willis, but I'd hope for Robert DeNiro.
Favourite place and favourite food in the world?
Chamoix, France.
Italian….everything
Tell us what's next?
Opening the Bombay Sapphire Distillery at Laverstoke Mill next Spring! I can't wait to welcome the world here.
It's the end of the world in three days time, what would you do?
Get on my motorbike, speed to the Alps (as fast and fun as possible) and go snowboarding right up until the end.