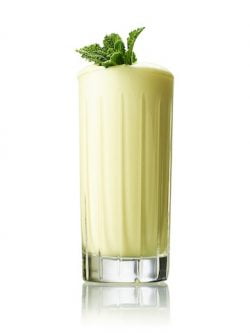 Today is World Cocktail Day when lovers of fine drink all over the world will be raising their glasses to the very idea of cocktails. Gotta say that one of the best recipes to come our way this week is the extremely delicious Boneshaker Gin Fizz from our friends at Hendrick's Gin. Here's the recipe:
Ingredients
40ml Hendrick's Gin
10ml Lemon Juice
10ml Lime Juice
10ml Sugar
5ml Rosewater
Dash Vanilla Extract
1 Fresh Egg White
25ml Double Cream
Top up with soda
For best results strap cocktail shaker to penny farthing wheel and traverse cobbles. If this is impossible or you live in a historically unsympathetic area, then this is the slightly easier option – combine ingredients in cocktail shaker without soda water. Add ice and shake vigorously for a number of minutes. After three minutes, pour into glass without ice and add a splash of soda water. One should be able to stand a straw up vertically in the frothy concoction.