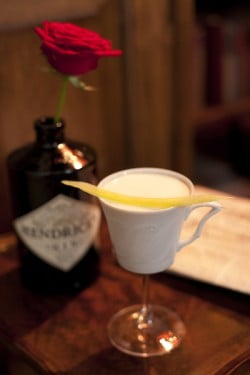 The delightfully diverting Hendrick's Carnival of Knowledge ­ a unique travelling parlour of enlightenment ­ will offer intellectual sustenance to all curious minds at this year's London Cocktail Week (11th ­ 13th  October 2013). 
Hendrick's Carnival of Knowledge brings together the nation¹s most expert experts (and erudite amateurs) to create and curate cognitive collaborations designed to stimulate the mind as well as the taste buds.
Within the decadent environs of 33 Fitzroy Square, W1, wisdom of the most eye-opening variety will be provided by luminaries, visionaries and deviants such as The Idler Academy, Antique Beat and LAS Theatre; and for stimulation of the taste-buds, a delightful cocktail bar will provide enlivening libations for all to enjoy.
Interesting diversions and entertainments will include:
The Last Supper: cooked & presented by The Clove Club:  Prepare to indulge yourselves as though this meal was your last.  Set within the gothic grandeur of 33 Fitzroy Square, this ghoulish meal will take you on a journey through the darkest recesses of your imagination.  Featuring delicious cocktails, frightening entertainments and a cornucopia of decadent delightsfrom the warped minds of the world-renowned chefs, The Clove Club.  Saturday 12th October, 7.30-11pm (Tickets £65 ­ limited to 12).
The Chemistry of Cocktails:  Sit back and enjoy a Hendrick¹s & Tonic as you listen to Steve Pearce, CEO of Omega Ingredients, explain the subtle magic of the Martinez and the science behind your Sazerac.  Former President of the British Society of Flavorists, Steve is one of Europe¹s most acclaimed thought leaders in food science, with a portfolio of unique creations including Œthe smell of Cleopatra¹s hair¹ and Œthe smell of space¹, the latter for a NASA astronaut training programme.  Friday 11th October, 7-8:30pm (Tickets £12).
Antique Beat presents A London Day of the Dead:  A day of salons and workshops uncovering the deathly history of London and the deaths of famous Londoners; an exploration into the surprising choices we have for the afterlife; and what happens once we depart from this mortal coil. Saturday 12th October, events from 1pm to 11pm (free admission for various shows, tickets £12 otherwise).
Coffee Houses & Gin Palaces: presented by The Idler Academy and Dr. Matthew Green:  Explore the history of London¹s 18th century coffee houses and gin palaces.  Centuries ago, these venues were politically provocative, intellectually charged dens frequented by eminent scholars and louche libertines.  Find out why they brought people together and how they inspired brilliant ideas and discoveries that would make Britain the envy of the world.  Sunday 13th October, 4-5pm (Tickets £12).
Sunday lunch in 2063:  Award-winning mixologist Ryan Chetiyawardana (Mr Lyan) and Shay Ola, founder of the Rebel Dining Society, present a curious culinary collaboration like no other. Set 50 years in thefuture, this short lecture followed by a thought provoking dining experienceexplores our relationship between sustainability and the future of the food& drink we consume. Cocktails included. Sunday 13th October, 7-8.30pm (Tickets £20 ­ limited to 20 per session).
(and last but certainly not least) Hendrick's Parlour Bar:  Nourish both your mind and your taste buds in Hendrick¹s Parlour Bar.  Unusual characters, eye-opening wisdom and exquisite cocktails await the curiously minded.  Join us and reawaken your spirit of curiosity in the decadent surroundings of 33 Fitzroy Square!  Be seated and enjoy luxuriant libations served by some of the world¹s finest bartenders. Friday 11th October ­ Sunday 13th October, from 12-10pm (free admission, capacity 40).
HENDRICK'S CARNIVAL OF KNOWLEDGE will be located at 33 Fitzroy Square, W1T 6EU from 11th­13th  October 2013. 
For information on HENDRICK'S CARNIVAL OF KNOWLEDGE, visit: www.hendricksgin.com/carnivalofknowledge
Tickets are available from http://www.diffordsguide.com/london-cocktail-week/timetable-and-tickets

Tickets can also be booked aThe Idler Academy, Antique Beat and LAS Theatre; The Idler Academy, Antique Beat and LAS Theatre