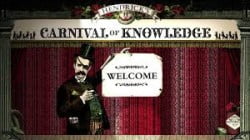 Looks like its finally summer and that means one thing is certain – the amazing Hendrick's Carnival of Knowledge will be out and about again. A little bird has told us it is planning a spectacular return to the Edinburgh Festival in August. In the meantime however, for he first time Hendrick's Carnival of Knowledge – a unique travelling parlour of enlightenment – will journey to the decadent environs of Pylewell Park, Hampshire, for the Curious Arts Festival (18th-20th July) to offer intellectual sustenance to all curious minds.
Renowned literary minds 5×15, with the help of the nation's most expert experts (and erudite amateurs), will encourage those of an inquisitive nature to once more take delight in the unique and revel in the curious as they curate cognitive collaborations for enrichment of the mind.
Supporting the quest for palatal and scholarly stimulation, Hendrick's Mobile Academy of Alchemical Meanderings (affectionately known to all as MA'AM) – a most unusual and luxurious travelling bar – will be on hand to provide a host of delightful Hendrick's libations.
Interesting diversions and entertainments on Saturday 19th and Sunday 20th will include:
5 x 15, renowned cultural connoisseurs will bring together five outstanding individuals who, with just 15 minutes each, will tell of their lives, passions and inspirations as part of a signature 5×15 experience. This feat of dynamic discourse will run alongside a series of other remarkably diverting discussions, including a discovery of the life, loves and betrayals of Eleanor Marx with Rachel Holmes and an intimate journey through the extravagant lives of the three wild Wyndham sisters presented by Claudia Renton. Saturday 19th and Sunday 20th July, from 11:00am-4:30pm.
The Martini Cocktail – stirred, not shaken: Join Hendrick's gin as they voyage through the history of the most celebrated cocktail, tracing (and tasting) their way through the family tree of this legendary concoction; encountering some of its most famous ambassadors, adversaries and anecdotes along the way. Saturday 19th July, 5:00-6:00pm.
A Genteel Tipple Through Gin in Literature: Gin has fuelled legendary writers, unforgettable characters and gripping plots. Accompany Hendrick's Gin as they take you through some of these especially enlightening literary extracts and sample specially mixed Hendrick's cocktails. Sunday 20th July, 5:00-6:00pm
Hendrick's Carnival of Knowledge Bar: Nourish both your mind and your taste buds in Hendrick's Parlour Bar. Unusual characters, eye-opening wisdom and exquisite cocktails await the curiously-minded. Join us, be seated and enjoy luxuriant libations served to you by some of the world's finest bartenders. Friday 18th, Saturday 19th and Sunday 20th July, from 10:00am–10:30pm.
HENDRICK'S CARNIVAL OF KNOWLEDGE will be located at Curious Arts Festival, Pylewell Park, Hampshire from 18th-20th July 2014. For more information on visit: http://www.hendricksgin.com  or
http://curiousartsfestival.com