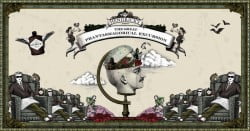 Today's the day our good friends at Hendrick's Gin unveil a brand new visual and audible experience – The Great Phantasmagorical Excursion. The Great Phantasmagorical Excursion takes inspiration from the research of Edgar Allan Poe into the wondrous state of hypnagogia. Poe noted, "I am aware of these 'fancies' only when I am upon the very brink of sleep, with the consciousness that I am so". Inspired and intrigued, Hendrick' set about to create a journey of peculiar imaginings by harnessing the mighty power of sound.  Those bold enough to participate will experience what it's like to be the first fish to traverse the celestial cosmos, travel to Jatinga in the belly of a horned plumier and fly a kite in susurrus winds with Grandmother.
The Great Phantasmagorical Excursion Leader, Mr. Ulysses Atherton-Coraldaton, invites the curiously minded to sign up to this expedition via: https://www.hendricksexcursion.co.uk The experience is free and requires just a pair of headphones and a webcam.
Those looking to adventure on a journey of the imagination can join Mr. Ulysses Atherton-Coraldaton and his companions as they travel the breadth of the country with their Phantasmagorical Cognitive Drinking Toppers. These curious contraptions will take wearers into a phonic voyage while monitoring the wearer's brainwaves and cerebral activity using ECG, to reveal a detailed depiction of the imaginations private ponderings for all to view on a built in portal. The Toppers are available to try at a host of intimate venues and premium drinking establishments to be revealed shortly.