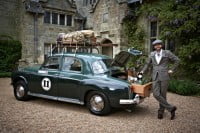 Here's something to cheer up the dog days of January: Hendrick's Gin has created 'Hendrick's Late Supper Soiree Service', a limited series of delightfully different soirees to be hosted in your own home.  Available through www.hendricksgin.com on selected dates at the end of January, the late night extravaganzas for up to six guests bring to life the unusual nature of Hendrick's. Think gin infused Victorian suppers, peculiar performances, bedtime stories and a host of other oddities.
For your special celebration, the Hendrick's team will concoct tantalising libations such as the Hendrick's Purl, a winter warming cocktail with hoppy ale and cucumber infused gin.  Each element of the soirée will be perfectly matched with a Hendrick's serve. Gastronomic architects, Bompas & Parr, will be in charge of the culinary delights, serving up a Hendrick's gin-infused traditional Victorian supper menu with delightfully different marvels from Scotch Collops (curried rabbit) to Pyramid Egyptian Eggs.
Throughout the evening, and into the early hours, you and your guests will be entertained with after-dinner speeches, riddles & rhymes, poems, parlour games and bedtime stories from the charmingly eccentric Hendrick's team. Only available during January, these unforgettable experiences cost £600. To enter yourself and your party of five into the ballot for these highly sought-after soirees, register at www.hendricksgin.com, where buyers for each event will be selected randomly.