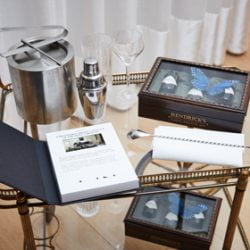 Whatever will those clever Hendrick's people come up with next? If you're staying at the The London EDITION you'll soon find out that their latest magical wheeze is the H.O.T.E.L. (Hendrick's Ocular Tool for Extraordinary Libations) – which reinvents the hotel mini bar experience by offering residents a virtual in-room bartender.
Guests staying in any of the 12 suites at the luxury five-star hotel can immerse their senses in the latest in-suite drinking innovation, with an extraordinary virtual cocktail class led by global Hendrick's ambassador, David Piper.The peculiar experience starts with the discovery of a book, curiously placed on the suite's drinks trolley. When opened, residents will discover a medley of mysterious bottled liquid before the screen comes to life with the apparition of David Piper who shows them how to make two veery delicious Hendrick's cocktails –  the Inspector Gimlet and Caught by the Fizz created by the hotel's Bar Manager, Davide Segat, and also available in the Punch Room.
Hendrick's UK Ambassador, Ally Martin, said: "At Hendrick's we aim to offer our consumers experiences that are exceptionally unusual. The H.O.T.E.L. gives guests a surprising and unexpected twist to the classic mini bar experience, allowing them to re-create a bar-worthy cocktail all from the comfort of their own room."
Lance Perkins, Director of Bars at The London EDITION, adds "The standard of offerings in hotel bars has become extremely high, that's why at The London EDITION we're always aiming to go the extra mile to offer something different – this time, extending that experience to the hotel suite. It is a pleasure to partner with Hendrick's who share those same high standards and a unique personality, allowing us to co-create new and interesting experiences for our guests. It is not every day that guests can experience their own virtual bartender in their room."
The H.O.T.E.L. will be available across 12 of the suites at The London EDITION from Wednesday 5th October 2016 until the foreseeable future.