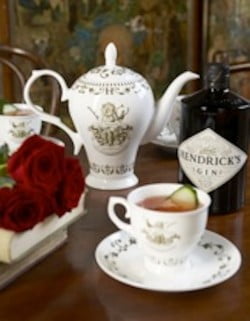 This June, for the first time EVER, the curiosity that is the Hendrick's Gin Teapot will be available for all to purchase. This charming decanter offers a refined and certainly unusual imbibing experience. Even better, the Hendrick's Teapot comes with a selection of sublime cocktail recipes, created by Hendrick's British Ambassador, Duncan McRae. Once you've made them you can pour your chosen tipple from your refined teapot into one of the charming Hendrick's Tea Cup and Saucers, available as part of the Midnight Tea Party Pack featuring a bottle of delightfully peculiar gin and a teacup, for no extra cost.
Here are a few of the Ambassador's suggestions for a refreshing Teapot tipple:
Hendrick's Dream Time Martini
Ingredients for teapot: (serves 3)
150ml Hendrick's Gin
60ml Lemon Juice
33ml Lavender Honey Syrup*
Method: Combine all ingredients in a teapot filled with cubed ice. Stir briskly and leave to sit for approximately one minute. Stir again before pouring into chilled tea cups without ice
Garnish with lemon zest.
Slumber Thyme
Ingredients for teapot: (serves 3)
120ml Hendrick's Gin,
60ml Freshly squeezed Lemon Juice
30ml Solerno Blood Orange Liqueur
30ml Thyme infused sugar syrup*
Topped with Soda Water
Method: Combine all ingredients in an ice-filled Teapot and stir. Leave to infuse for a moment, then charge with soda before pouring into an ice-filled teacup. Garnish with a lemon peel and a sprig of thyme
The Hendrick's Teapot will be available to purchase online from uk.hendricksgin.com at a price of £30.