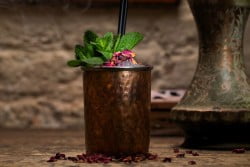 The next edition of Cocktails in the City in London features a stunning cocktail inspired by a love triangle and the history of the julep, a well-known drink. One of our all time favourite eateries, Dishoom, pays homage to the old Irani cafés of Bombay, opened by Persian immigrants in the early 20th century. Open all day, every day, they faithfully served their communities, provided refuge for all and became part of the fabric of urban life. From almost 400 at their peak in the 1960s, fewer than 30 now remain. Dishoom draws upon the heritage and tradition of these cafés.
The Dishoom team loves nothing more than to explore the links and make connections between their London home and their beloved Bombay. Dishoom Daru-walla Carl Brown (winner of the Young British Foodies' drinks category in 2014) heads up the 'Permit Room' bar and created the Edwina's Affair, based on real life love story between the English Edwina Mountbatten, and Nehru, India's first Prime Minister. Carl describes the cocktail as 'a hush-hush love triangle of gin, rose and cardamom, in a secret garden of fresh mint, strewn with candied rose petals. It's light, refreshing and captivating." The drink uses Lanique, a spirit liqueur made with Attar of Rose. Attar of Rose is created by steam distilling thousands of rose petals and is what gives Lanique its unique taste, flavour and vibrant colour.
The inclusion of Lanique, which delivers a rosy explosion to the drink, is no coincidence. The word julep derives from the Arabic word for rose. There are ties between a 13th Century medicinal drink of rosewater and mint which can, and probably did, evolve in to what is now known as the modern day julep.
"The Edwina's Affair is a beautiful drink that captivates everyone who drinks it," said Emma Sprackling, Lanique Brand Ambassador. "It is a light, fresh cocktail with a rosy kick – but don't let its demure appearance fool you– it's short and boozy!
"Cocktails in the City is the perfect environment for people to try an array of cocktails made by some of the best bartenders in the city, using some fantastic ingredients and it's all under one roof. Tick and tick."
The event takes place at One Mayfair in North Audley Street in London from Thursday 10th March to Saturday 12th March. Tickets to Cocktails in the City costs £15 and there are three sessions; 6-11pm on Thursday 10th and Friday 11th March and 5-11pm on Saturday 12th March. For details on how to buy tickets, please visit: http://www.cocktailsinthecity.co.uk/london/