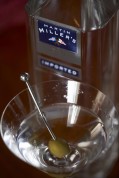 Martin Miller's Gin has just launched its first ever social media driven cocktail competition, "Trade Up"  asking mixologists, enthusiasts, and everyday drinkers worldwide entrants to bring maligned 1980's cocktails into the 21st century.  Think once hated drinks like Long Island Iced Tea, Sex on the Beach … you know! The top five cocktails will be judged in the final round by panels in Seattle, Miami and London and the winning cocktail will be featured on "Raising the Bar" with Jamie Boudreau on Small Screen Network.
Entry to the Martin Miller's Gin 'Trade Up' Competition is via the Martin Miller Gin page on Facebook here
Entrants must like Martin Miller's Facebook page prior to gaining access to competition information and rules.  Entries close on November 15th.