Renowned master of molecular mixology, Tony Conigliaro has created fantastic cocktails inspired by the unique blend of botanicals in Beefeater 24 to be served in his new bar, 69 Colebrooke Row.  These innovative cocktails challenge the senses in a completely new and unique way.  Tony chose Beefeater 24 – created only a year ago by Master Distiller, Desmond Payne – as the gin of choice for his new recipes because, as he explains: "The Beefeater 24 has strength and body.  The addition of green tea is inspired because it blends all of the flavours so well and goes with so many different kinds of ingredients".
The Beefeater 24 Very Dry Martini
Based on Tony's studies of the tongue and flavour experience within the mouth, Tony has created this ultra dry cocktail using a high concentration distillation of polyphenols and tannins that are added to the vermouth.  When mixed with Beefeater 24 to make the martini it creates a drying sensation in the mouth resulting in the ultimate aperitif
Beefeater 24 Japanese Tea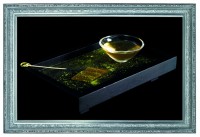 This most visual of cocktails draws inspiration from the key green tea botanical utilised in Beefeater 24. Tony's conecpt was to create a drink which had an element of ceremony in the serve, hence the idea of drinking from the glass with two hands and a garnish of green tea bean curd linking back to the tea notes.