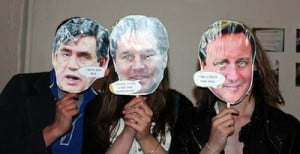 London's latest popup eaterie is Bompass & Parr's The Parliamentary Waffle House which opened last week in Soho, London. In the run up to Election Day on May 6th it will be hosting a series of election-related entertainment. Each option on the all-day menu of mostly waffles is available in three variations – Labour, Liberal Democrat and Conservative corresponding to each of the main UK parties. As diners vote with their mouths, their orders are fed into a live swingometer, which gauges the political mood of the nation.
The next event offers a warm-up battle on the evening of the final leadership debate, as the Love Marmite and Hate Marmite camps fight it out to determine the future of one of the world's most divisive spreads. Watch the action unfold, accompanied by a selection of Marmite waffles, bloody Marmites and Marmitinis.
Also on the line-up is The Thick of It night on 3 May and an evening of political word-play on 4 May, complete with word games, improvisation and satirical food. Finally, 6 May sees the Election Night Extravaganza, an all-night party of food, politics and partying.
Tickets for all events are available through Ticketweb.
The Parliamentary Waffle House is at 65-67 Broadwick Street, open Monday to Saturday from noon til 11pm. The venue is licensed to sell alcohol from Wednesday to Saturday.