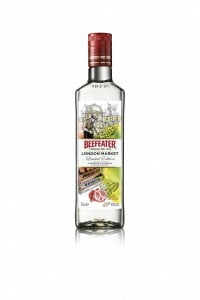 Hot off the press comes the news of another unique Beefeater Limited Edition gin. This time Master Distiller Desmond Payne has followed in the footsteps of Beefeater founder James Burrough who in the nineteenth century sought out the best ingredients he could find in London's celebrated food markets such as the original Covent Garden. So the new gin contains new ingredients found today on London's market stalls such as pomegranate seeds, kaffir lime leaves and cardamom pods.
With over 40 years in the industry, Desmond Payne is the world's most experienced gin distiller and at the heart of Beefeater's innovation. As Desmond explains: "By using these exotic botanicals, I wanted to create a gin that captures the drinker's imagination, reminding them of the aromas, tastes and charm of London's bustling markets in the summertime."
And what do these new botanicals bring? The use of pomegranate produces a berry-like note to introduce a complex and balanced progression of flavours on the palate. Beefeater's traditional citrus notes of lemon and bitter orange are complimented by the softer lime flavour of Kaffir lime leaves whilst the sweet spice aromas of cardamom gently soften the gin on the palate.
This new Limited Edition cements Beefeater's place as an innovative and experimental brand. Here's what Chivas Brothers Eric Benoist has to say: "As the world's No 1 premium gin brand, we are committed to driving the premium gin category forward by introducing innovative new products and different serving suggestions. Our Limited Editions are a perfect example of this commitment, and will provide the consumer with fresh inspiration, distinguishing Beefeater in what is a highly competitive market."
Benoist concludes: "Experimentation and innovation has been the cornerstone of Beefeater gin since the days of its founder, James Burrough. Today, our track record for award winning innovation continues as Desmond breaks new ground with a host of highly acclaimed gins. The Beefeater London Market Gin is perfect for creating new gin cocktails at home this summer so we are confident that it will capture the imagination of gin lovers around the world."
Beefeater London Market Gin will be available for a limited period from June 2011 in key global markets, including Spain, UK, Turkey and Bulgaria.