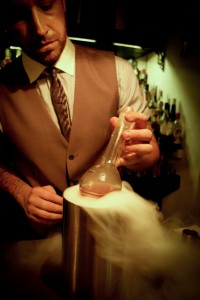 Here's something to look forward to – the launch of the Worship Street Whistling Shop, a unique Victoriana-inspired underground bar based in the heart of Shoreditch. Opening on the 28th April, the Worship Street Whistling Shop is the second venture from Fluid Movement, the molecular mixologists and drinks enthusiasts behind the renowned Purl in Marylebone. The Fluid Movement team have delved into the tradition and provenance of much-loved classics and forgotten recipes from Britain's greatest drinking era to reinvent and showcase the best of molecular mixology and Victorian cocktail heritage.
The Worship Street Whistling Shop is an update of the Victorian gin palace and has  striking interiors including a seating area complete with a bespoke Victorian lamp post and original shop front windows leading to the Fluid Movement lab, where the team will research new drinks and distil their own scents and flavours.
The Whistling Shop will also have two unique private dining areas, including an original space modelled on a traditional eighteenth century dram shop, complete with a sawdust floor, an authentic bar and genuine period gin bottles, where guests can enjoy an 'honesty bar' style service. There's also  a unique Cocktail Emporium where guests will be able to book masterclasses and be led through a complete sensory cocktail voyage, experiencing sounds, sights and scents to replicate the historical story of the drinks.
Working with Fluid Movement, Ryan Chetiyawardana, whose previous experience includes Global Finalist for Diageo Reserve Brands World Class, will head the bar team at the Whistling Shop. The pioneering cocktail menu will offer new approaches to Victorian era cocktail favourites, including a Gin Fizz fermented with champagne yeast and an innovative recreation of the period's classic Cream Gin. The Whistling Shop will also be collaborating with the Oyster Boys, from Scottish foodies Temple and Shian, to offer a full lunch menu and grazing dishes for the evening, such as suckling pig and rabbit hot pot, providing guests a taste of the extravagance and outrageous indulgence of the Victorian era.
With a series of surprises up its sleeve, a unique and innovative concept, award-winning cocktail experience and undeniable flair, the Worship Street Whistling Shop is set to be the next big thing to hit the London's drinking scene.
Worship Street Whistling Shop
63 Worship Street
London, EC2A 2DU
Open
Weeknights: 12pm-1am
Friday and Saturday: 12pm- 2.30am