Pedler Peckham 58 Peckham Rye London SE15 4JR Tel: 020 3030 5015
 (Map)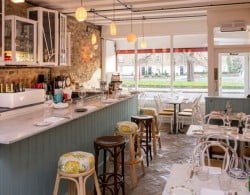 Pedler Peckham
58 Peckham Rye
London
SE15 4JR
Tel: 020 3030 5015
Pedler is open until late from Tuesday until Saturday and for breakfast, brunch & lunch on Fridays to Sundays.
There's no question that Peckham, once a fairly unremarkable and fairly unlovely area of South London has become the latest London foodie village and is now buzzing with great places to eat and drink. In Bellenden Road alone, the hub of Peckham croissantisation, you'll find the delightful Anderson's Café, Thai street food inspired The Begging Bowl and Artusi. Around the corner is Ganapati offering authentically good South Indian food and just by Peckham Rye Station is the Peckham Refreshment Rooms, a slice of old Barcelona.
Our mission however was to investigate the latest addition to the Peckham gastronomic frontline – Pedler on Peckham Rye. The brainchild of Peckhamites Tim Moore and Taskin Muzaffer, the guys who launched Little Bird Gin, Pedler does everything right. We weren't there for the food but a quick look at the menus and the inviting pile of bar snacks that included home made sausage rolls was enough to confirm that the rave reviews Pedler is receiving look well deserved.
But it was the cocktails that grabbed our attention. As you can imagine with two self confessed gin nuts in charge gin is big on the cocktail menu. We tried the Early Bird, a version of the Breakfast Martini made with Little Bird, marmalade, triple sec and pink grapefruit, and the Peck'em a more aromatic martini style with Aperol, Cinzano and fresh grapefruit. Both were totally delicious and beautifully served. A G & T is always a test not only of a gin but also of the bartender's skill and the Pedler's Perfect G & T did not disappoint – in fact it was perfect.
The extra citrus boost of the Little Bird botanical recipe underpinned by robust juniper adds exceptionally clean and fresh flavours to these drinks. The ethos of the food offering here is based on sourcing the best and most local ingredients available so it's good to hear that plans are afoot to build a craft distillery in the 'hood (at present Little Bird is distilled in nearby Clapham at the renowned Thames Distillers).
Fantastic cocktails, quirky decor, great music, very chilled out staff –  well done Pedler people – you've nailed it.
Tel: Tel: 020 3030 5015