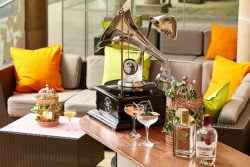 Today's the day our good friends Pickering's Gin launch the delightful One Square Pickering's Gin Terrace at Edinburgh's Sheraton Hotel. This dedicated gin spot, which flows from One Square Bar onto Festival Square, will be open summer-long and will offer gin lovers the chance to celebrate a G&T whilst soaking up the exciting summer city atmosphere.
Pickering's has unveiled its Marvellously Mixed Musical Martini Maker which has been created especially for the Gin Terrace. A first in the world of gin, this brand new labour-saving device has been designed to perfectly stir mixed drinks to the rhythm of 78rpm. It uses the Pickering's patented musical infusion technology to create perfectly poured cocktails from the brand new Peacocktail and One Square cocktail collections that are available on the Gin Terrace throughout the summer (£8.00 each).
To add to the buzz of the Gin Terrace, Pickering's Brand Ambassador Paul Donegan will be in situ on key dates over the summer to guide guests through a gin adventure. Sessions will include Martini Masterclasses that take a look at the history of the Martini and teach guests how to create the perfect Martini at home. These interactive classes will include a flight of Martini samples using the Marvellously Mixed Musical Martini Marker. Marcus Pickering, self-confessed gin nut and co-owner of Pickering's Gin, will also star in the summer programme with his exclusive "Meet the Maker" events where he will share the history of Pickering's Gin and its phenomenal growth with guests over a G&T, or two.
Tristan Nesbitt, General Manager at the Sheraton Grand Hotel & Spa said: "Pickering's Gin created our popular One Square Gin at their Summerhall Distillery last year and the evolution of our outdoor gin partnership was the natural next step. The new Gin Terrace breathes fresh life into one of Edinburgh's prime summer spots with its direct views of Edinburgh Castle and location in the heart of the city's cultural quarter. This is the ideal spot for after-work drinks, weekend socialising with friends or a welcome respite for fatigued festival goers."
The partially-covered Terrace boasts quirky art installations by Pickering's Gin, fresh summer branding, botanical-themed floristry and vibrant lighting. One Square has also invested in a brand new super-effective heating system to keep guests toasty on the Terrace on even the chilliest of days. A range of small plates will be available on the Terrrace all day long, featuring dishes such as haggis bonbons, Isle of Mull cheddar and courgette Chips served with spiced hummus.
Matthew Gammell, co-owner of Pickering's added: "We have really enjoyed collaborating with One Square to create an exciting new gin destination that guests and local fans can enjoy. The Marvellously Mixed Musical Martini Maker brings an element of creativity and fun to the Gin Terrace while the summer programme of gin masterclasses and events will appeal to gin lovers who are always looking to learn new ideas and tips."
For more information on the One Square Pickering's Gin Terrace, including the Programme of Summer Events, please visit www.OneSquareEdinburgh.co.uk/XXX. To book a table please call 0131 221 6422 or email info@OneSquareEdinburgh.co.uk
One Square, 1 Festival Square, Edinburgh EH3 9SR
@OneSq Facebook.com/OneSquareEdinburgh
www.onesquareedinburgh.co.uk/XXX
And here's the cocktail menu with something for everybody:
Peacocktails by Pickering's:
A Tune A day – Pickering's Red Top, Cointreau, Rosso Vermouth, Dry Vermouth. Stirred in the Marvellously Mixed Musical Martini Marker, garnished with a dehydrated Orange slice
Pickering's Signature Martini – Pickering's Red Top, Bianco Vermouth, Dash of Orange Bitters. Stirred in the Marvellously Mixed Musical Martini Marker and garnished with a pink grapefruit twist
Mumbai-Tai – 1947 gin, Orgeat. Cointreau, Navy Strength, Fresh Lime. Shaken and strained – over crushed ice with mint sprig and cinnamon stick
Festival Square Fizz – Pickering's Red Top, Crème de Fraise, Fresh Lemon, Top with Prosecco. Built in the glass, topped with prosecco and stirred VERY gently.  Garnished with slice of strawberry
One Square Cocktails:
 La Vie en Rose – One Square Gin, Martini Rosato, Dashes of Orange Bitters. Stirred in the Marvellously Mixed Musical Martini Marker, garnished with an orange peel
One Square Signature Martini – One Square Gin, Noilly Prat Dry, Dashes of Grapefruit Bitters. Stirred in the Marvellously Mixed Musical Martini Marker, garnished with a pink grapefruit peel
Florodora – One Square Gin, Crème de Framboise, Fresh Lemon, Top with Ginger Ale. Built over cubed ice and topped with ginger ale, garnished with fresh raspberries
Portobello Punch – One Square Gin, Peach Liqueur, Fresh Lime, Fresh Pineapple, All Spice Berries, Caster Sugar. Shaken and strained over cubed ice and garnished with pineapple