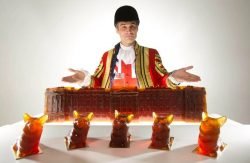 We're absolutely loving this amazing Pimm's Royale Buckingham Palace jelly, complete with jelly corgis, that has been specially created for The Patron's Lunch celebration of Her Majesty The Queen's 90th birthday this week.
The one-metre long x 15 cm deep x 20cm high wobbly replica, weighing in at 35kg and made using Pimm's No.1 Cup and Champagne, celebrates the appointment of Pimm's as the official tipple of The Patron's Lunch as they get ready for the 10,000 guests arriving for the street party on The Mall this Sunday.
A team of three jelly artists, led by Tim Simpson, spent 200 hours creating this edible landmark: designing and laser cutting a model of the famous façade, transforming this into a jelly mould, concocting the recipe, balancing the ratio of Pimm's and Champagne for the perfect wobble, and patiently waiting a whole day for it to set. Lead sculptor Tim Simpson said: "Buckingham Palace is one of the most recognisable buildings in the world and the balcony has hosted some of the nation's favourite moments, so the pressure was on. We're delighted with how it turned out – here's to another great occasion."
The Pimm's Footmen are being put through their paces too so they're on tip top form to make The Patron's Lunch celebration and patronage of 600 charities and organisations across the UK and Commonwealth a day to remember.
Their training for the day has included 'trike training sessions'. These trikes will be whizzed around The Patron's Lunch Live Sites outside of The Mall (including St James Park and Green Park), to guarantee no attendee is ever too far from a Pimm's.
And as no Pimm's cocktail is complete without cucumber, they've been dispatched to a Yorkshire farm to collect a specially grown, top quality crop. David Schellingerhout of Glen Avon Growers said: "We planted rows and rows of our cucumbers for The Patron's Lunch and have harvested hundreds of the finest to be sliced on Sunday morning for the thousands of glasses of Pimm's."
Pimm's expects to serve 30,000 glasses of Pimm's on The Mall and The Patron's Lunch live sites in St James's Park and Green Park. They have 130 bartenders, 180 kegs of Pimm's and 5400kg of ice at the ready, and a can of ready mixed Pimm's No.1 Cup and lemonade will be packed into the lunch hampers on The Mall.
Pimm's Brand Manager Joanna Segesser said: "We are honoured to be the official tipple of Her Majesty The Queen's 90th birthday celebrations at The Patron's Lunch, and pay tribute to her extraordinary contribution to community and country. Pimm's is proud to have been an integral part of Great British celebrations since the 1840s and we encourage the public to celebrate this weekend with their own street party and have a go at making their own Pimm's Royale jelly!"
Those not attending on the day are encouraged to join in with the festivities and embrace the community spirit by hosting Patron's Lunch inspired events across the nation. The Patrons' Lunch has set up a detailed guide including recipes, fundraising ideas, entertainment and so much more to help you host a day to remember! Head to http://www.thepatronslunch.com/howto for all your Patron's Lunch party needs.