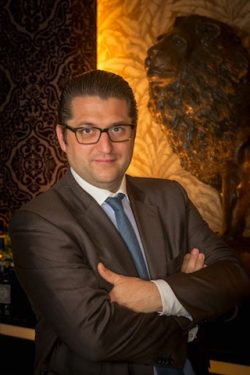 Here's something a little bit special for London Gintimers. This week only Rutte celery gin and Gin Sul from Hamburg make a rare appearance in London when Gintime hero Jörg Meyer of the exquisite Le Lion • Bar de Paris in Hamburg takes up residence in Central London.  For four nights only, 11 to 14 May, he will be guest bartending at GŌNG at The Shard, the highest bar in Western Europe.  Jörg's own 'Le Lion' is one of only five bars in the history of the World's 50 Best Bars poll to have achieved a listing in seven consecutive years.
Renowned as the birthplace of the very delicious and already iconic Gin Basil Smash, Le Lion sprung from a spare room in a restaurant to its own site in the style of a small, lavish cocktail lounge.  Le Lion is Mecca on the holy trail of gin for all gin lovers.
Jörg brings five original cocktails to GŌNG, including two gin-based creations, to enjoy 52 floors above London, at the top of the five-star Shangri-La Hotel at The Shard, alongside head bartender Christian Maspes and his bar team.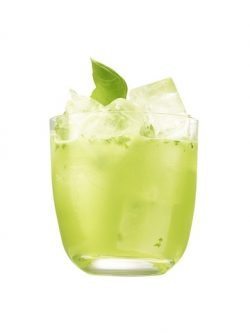 Gin Basil Smash
This contemporary classic was invented by Jörg at Le Lion, and bursts with herby flavours and an exhilarating green freshness.
Muddle a handful of basil leaves and sprigs
60ml of Rutte celery gin
25ml of fresh lemon Juice
15ml cane sugar
Shake and double strain into a tumbler, on the rocks.  Garnish with basil leaves.
Not Too Dry Martini Cocktail
60ml Gin Sul (from Hamburg)
20ml Mancino vermouth secco
Drops of Ferdinand's riesling and quince bitters
Lemon zest
This unique residency is not to be missed and the best news for gin fans is that the usual £30 minimum spend per visitor at the bar is waived for the duration of Jörg's time behind the stick. GŌNG does not take bar reservations and welcomes both hotel guests and non-hotel guests. Smart dress code.
Shangri-La Hotel At The Shard, London is located on floors 34 to 52 of Renzo Piano's The Shard, which is the tallest building in Western Europe. GŌNG at Shangri-La Hotel At The Shard, London. 31 St Thomas Street, London SE1 9QU, UK.
Tel. +(44) 0207 234 8208
www.gong-shangri-la.com           @ShangriLaShard #GONGbar
Watch Jörg in action at 'Le Lion' here:
http://www.diffordsguide.com/contrib/videos/bars/le_lion_and_pine_room_20160315-175229.mp4