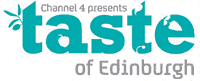 The Gintime Tutored Tastings sessions at Taste of Edinburgh attracted hordes of eager gin fans keen to explore the delights of premium gin. As Gintime Editor Geraldine Coates explained:
"There's a massive interest in gin at the moment. What was great about the Taste events was that our audiences were made up of ordinary consumers who wanted to find out more about their favourite tipple and were really interested in the array of flavours that different botanical recipes have. The feedback was tremendous with lots of people saying they had had no idea how much craftsmanship was involved in making gin. As that was the whole point of the exercise we were delighted too!"
Gins featured in the Tutored Tastings were: Hendrick's, Martin Miller's, The London Gin, Seagrams, Tanqueray and Whitney Neill.