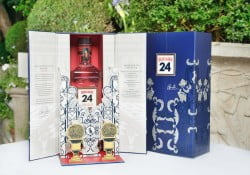 Beefeater has really made a name for itself by showcasing the best of British design and culture. The latest offering from Beefeater 24 continues this tradition and the Quintessentially British limited edition collectible gift pack features stunning design by talented illustrator Glenn Hin and was selected as the winner of a competition held by the brand inviting artists to capture 'Distinguished British Country Chic'. Now being released selectively worldwide, Hin's pack design evokes images of British secret gardens and sophisticated summer parties.
The Beefeater 24 Quintessentially British Edition design centres around an imposing, fine country house hidden in the British countryside, which theatrically releases a pair of beautifully manicured shrubs on opening the pack. On closer inspection the elegant illustration reveals details that hint at a Quintessentially British summer garden party; cocktail glasses, tennis rackets and botanicals found in Beefeater 24 all float magically around the grand estate.
JC Iglesias, Global Brand Director of Beefeater said "Beefeater 24 asked artists to draw inspiration from the theme 'Distinguished British Country Chic', as we were seeking designs that celebrated our elegant, British traditions but in a romantic and contemporary way. Glenn Hin captured this beautifully with exacting detail referencing a glamorous garden party. Beefeater 24 is the perfect accompaniment for such an occasion so the design really grabbed the imagination of the judges."
As an ode to Hin's design and the Quintessentially British garden party, the Beefeater 24 Gin & Tea cocktail features on the 'gates' of the limited edition pack. Infused with English Breakfast tea which compliments Beefeater 24's unique blend of rare Japanese Sencha and Chinese teas, the Gin & Tea is a refreshing modern interpretation of the classic Iced Tea, making it the perfect drink this summer.
To accompany a selection of Beefeater 24 cocktails, the brand has also teamed with British chef Mark Hix's newest venue HIXTER to create a selection of delicious canapés that can be created at home.
Guests are treated to the full Quintessentially British garden party experience opportunity to share a piece of Glenn Hin's work as an elegant invitation or thank you card featuring a vignette from the one-off design. Available to download from www.beefeatergin.com/24.
Created in 2008 by Master Distiller, Desmond Payne, Beefeater 24 is a traditional gin with a modern twist, capturing the essence of contemporary British life and is the perfect accompaniment for the inspired Quintessentially British garden party this summer.
In addition Gintimers have a unique opportunity to win one of these exclusive packs by visiting the Gintime Home Page and entering this issue's  Prize Draw.