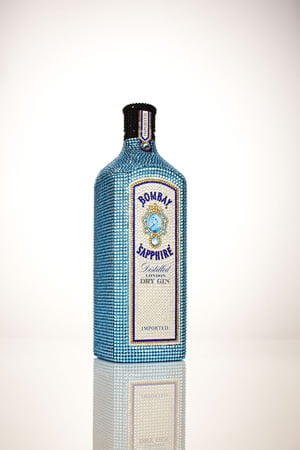 Yikes, someone had a very nice Christmas. Bacardi Global Travel Retail and F1RST Tax & Duty Free (The Nuance Group) have announced the sale of the first Swarovski-studded Bombay Sapphire gin bottle in travel retail.
The first of only four available pieces worldwide was sold to an Australian traveller at Melbourne International Airport over the festive period.
Bacardi Lion Travel Retail National Account Manager Paul Broadbent said: "Bombay Sapphire has a rich heritage in both design and luxury categories and this world exclusive is affirmation of that fact. "Against a challenging retail climate, Bacardi Lion and The Nuance Group were able to work together effectively to find this spectacular piece a customer. "
Available for purchase at A$3,999 (US$4,300) in duty free, the Bombay Sapphire gin inspired Voyage, a 4.5mm long Swarovski bottle created by Yves Behar using 15,000 Austrian Swarovski crystals. The crystals used are in four different sizes and shades of Aquamarine, Jet, Crystal and Light Colorado Topaz. Expert craftsmen created the limited edition bottles laying the stones one by one to ensure they came into contact with the crystals around them, and that no space on the bottle surface was left undecorated.