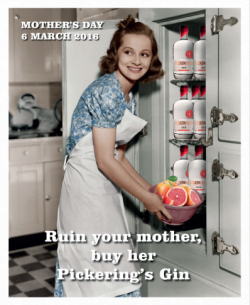 Calling all Edinburgh gin peeps, this Mothers Day, those lovely Pickerings Gin people will be welcoming under-ginned mothers to the Summerhall Distillery distillery for free! For those lucky enough to bag themselves a ticket, not only will mum go free, but she will also receive a wonderful Pickering's Pea-cocktail made specially for Mothers Day. What better way to ruin your mother?
Tours last around 45-50 minutes.
But hurry the special tickets are going fast. Don't forget too that the Summerhall Distillery is open all year round and its tour and tasting programme is a super popular and fun event for all kinds of celebrations.
Go to www.pickeringsgin.com and use the code mothersruin to receive £10 off your tour booking. You must buy at least 2 tickets for this code to work. Only one use per customer. Over 18s only. Please arrive at the distillery at least 5 minutes before your tour time. Your order number will act as your confirmation of purchase. Please bring your order number with you on the day.