66 Trafalgar Square, London, WC2N 5DS (Map)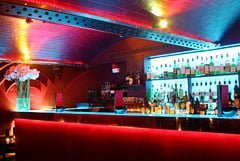 A hidden gem in the heart of Central London, this sexy, underground late night venue is just 'doon the stairs' from Albannach, the unique Scottish themed restaurant and bar in Trafalgar Square. Doon is just the kind of bar we like with lots of Gintime Brands behind the bar and Whitley Neill the house gin. Great gin cocktails include signature creations such as a smooth 'Pink and Silky' made with Whitley Neill Gin, fresh pink grapefruit juice and flipped with sugar and lemon, the 'Cuki Cutie', Hendrick's Gin smashed with mint and kiwi and served with Fevertree tonic, and the 'Downing Street', a seductively sweet variation on the Gin Martini stirred with Maraschino.
Doon is a great little cocktail bar, with a cosy look and feel. Lots of red, subtle lighting and comfortable seating add up to an intimate, relaxed, glamorous without being poncey kind of a place with excellent service and knowledgeable bartenders. There's also a cool menu of bar food and snacks that include bowls of Scottish favourites like haddock and potato croquettes, juicy venison sausages in honey and chilli and black pudding in tempura and fresh martini olives stuffed with goat's cheese – each available at £5 a bowl. Great whisky list too. Midweek there's a stylish after work crowd and a polite buzz whilst at the weekends it's jammed with trendsters dancing to a DJ playing house funk fusion. Grab yourself one of the newly refurbished side rooms and settle down for a cool cocktail and a fun night.
Tel: 020 73899808