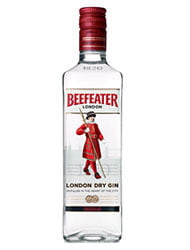 See also:
In 1862 James Burrough began making Beefeater Gin in Chelsea in London. James was a trained pharmacist who had travelled widely in the United States as a young man and seen the commercial opportunities of producing a superior quality gin. He applied his scientific expertise to creating a gin that today defines the London Dry style.
Beefeater is an exceptionally clean, bold gin whose extravagant juniper character is balanced with strong citric notes. On the nose juniper is dominant whilst in the mouth the full bodied aromatic character of the gin emerges, to be followed by a long and complex finish. James Burrough's original recipe is known to contain juniper, coriander, Seville orange peel, lemon peel and angelica root and seed. The gin owes its distinctively clean taste to the fact that it is based on a pure grain spirit. Another reason for Beefeater's rich character could be the fact that it is one of the few London Dry gins made by the steeping method where the botanicals are steeped in the grain spirit for 24 hours before being gently heated and allowed to run through the still. The final spirit is reduced to 40% abv.
Today Beefeater is the only premium London Dry gin still actually made in London at the distillery in Kennington, a place which showcases the quality and tradition that goes into the production of every bottle of Beefeater. It has always had a major export trade thanks to its early positioning as a characteristically 'English' product. Indeed James Burrough was an early marketing pioneer choosing to name his brand after the Beefeaters, the popular name for the guardians of the Tower of London, and a symbol of London itself. The Burrough company was already exporting in 1900 to Montreal. During the 1950s, Eric Burrough concentrated on export markets, particularly the US. He capitalised on the mania for everything British caused by the interest in Queen Elizabeth's coronation and made the 'Beefeater' element of the branding even more prominent. Today Beefeater is the no 1 gin in Spain and a leading brand in the US and over 170 countries around the world.
Beefeater remained in the Burrough's family control until 1987. It now within the Pernod Ricard portfolio.
Beefeater Gin Cocktails

Beefeater Gin News

Beefeater Gin Features

See also