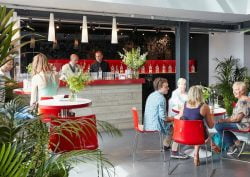 "Why don't you drink, Medwin? Gin-and-water is the source of all my inspiration. If you were to drink as much as I do, you would write as good verses: depend on it, it is the true Hippocrene." That was Lord Byron's advice to a fellow poet in the early 19th century, right round the time when the precursor to Beefeater Gin opened the first distillery in Chelsea.  So gin and poetry have a long history that is being celebrated this month at the Beefeater Distillery in London.
As part of the 'London Tonic Series' of cultural and creative events at its distillery Visitor Centre in Kennington, the Beefeater distillery bar will be transformed into a Speakeasy in the truest sense of the word, combining one of London's trendiest spoken word artists, Joshua Idehen, with the best gin cocktails around.
Attendees will be able to try different gins and tailor-made literary cocktails whilst listening to Idehen recite his own verse in his unique signature style. Guests will also hear why he chose to become a poet in the 21st Century, and even take part in a mini-masterclass on how to read poetry aloud like a professional.
The Beefeater Speakeasy is free of charge and will take place over two sessions on Saturday 19th November, from 2pm until 4pm and from 4pm until 6pm. To secure yourself a place at this exclusive event, visit Event Brite (https://www.eventbrite.co.uk/e/poetry-in-a-gin-distillery-introducing-the-beefeater-london-speakeasy-tickets-29274478754).
Guests can also combine the event with a tour of the Distillery for £12 (£10.80 for concessions), by visiting beefeaterdistillery.com and booking onto the 1.30pm or 3.30pm slot.
Kasia Karpieszuk, Manager at Beefeater London, The Home of Gin, said: "Despite making our iconic London Dry Gin since the early 1800s, the Beefeater distillery is one of London's best-kept secrets. The London Tonic Series is set to change all that, shining a light on the amazing wealth of arts and culture we have at our fingertips here in London, and making our historic home – The Home of Gin – a destination for curious Londoners and gin lovers alike."
The London Tonic Series will feature one event per month from November 2016 to June 2017, featuring the best of London's arts and culture scene, from stand-up comedians to all-star mixologists. Guests will also be invited to make a charitable contribution to the London Tonic Series' charity arts partner, the City & Guilds of London Art School; a not-for-profit, specialist higher education institution also based in Kennington, which trains the next generation of Fine Artists, Conservators and Historic Carvers.